---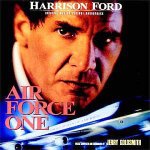 Try
& Buy From


---

Music Conducted By
Jerry Goldsmith

Additional Music Composed
For The Picture By
Joel McNeely

Orchestrations By
Alexander Courage

Recorded By
Bruce Botnick

Performed By
-

Album Produced By
Jerry Goldsmith

Label
Varese Sarabande
VSD5825

Previous Release(s)
-

Year Of CD/Film Release
1997/1997

Running Time
35:40

Availability
Normal Release

---
Cues & Timings

1. The Parachutes (5:14)
2. The Motorcade (2:40)
3. Empty Rooms (4:02)
4. The Hijacking (7:30)
5. No Security (2:59)
6. Free Flight (4:41)
7. Escape from Air Force One (5:25)
8. Welcome Aboard, Sir (2:06)

---
Soundtrack Ratings

Disappointing

Functional

Average

Good

Excellent

Outstanding






Air

Force One

Missing out on Starship Troopers through no fault of his own, Goldsmith was offered another major assignment at short notice; a re-score of Wolfgang Peterson's action spectacular Air Force One, in just two weeks! The movie had already been scored by Randy Newman, an unusual choice for such a genre, and sadly for Newman, his efforts were doomed to failure. With time ticking to the movie's theatrical release date and wall to wall music required, Goldsmith tried to engage his son Joel to write additional music, but he was busy. So another 'Joel' was sort - the talented and under used Joel McNeely. In the end Goldsmith delegated about 25 minutes of score to the composer who was required to adapt and/or incorporate Goldsmith's themes into his music, with Goldsmith conducting all the sessions.

The score opens with a sublime anthem (The Parachutes) for the titular plane and Ford's US President, with patriotic french horns, cymbal crashes and the strength and warmth of a massive string section. This cue also introduces Goldsmith's main action motif, as Special Forces kidnap war criminal Radik, who is introduced by way of a brooding Russian theme, later developed with chorus, but sadly missing from this selection.

Of course Air Force One is about action set pieces and I can't think of a better sequence that combines both stunning visuals and music than the spectacle of The Hijacking. Goldsmith's longest action cue clocks in at over 7 minutes and is quite simply a magnum opus of the genre, a tour de force, that yet again set the standard for action music. I never thought Goldsmith would better End Of A Dream from Total Recall but he did just that, 7 years later with this cue. Goldsmith whips the entire orchestra up into a frenzy, a cacophony of brass and percussion complement an army of strings with ostinato driven rhythms from start to finish.

Goldsmith gets a rest bite of sorts with some interior scoring (No Security), for moments between the President, his wife and daughter by way of some soft string passages. However, the action returns in Empty Rooms combining tension and thrills as the terrorists search the aircraft for the President. While Free Flight (praised by the director on his DVD commentary) has a re-fuelling plane hook up with AFO and allows the hostages to escape on parachutes. The AFO theme is proudly reprised as the tanker docks and the escape begins, before the cue builds to a thrilling finale of brass and violent percussion as things start to go wrong.

The film's last major sequences underlines adrenalin pumping tension as the remaining survivors escape AFO by winch to another plane. Escape From Air Force One begins with a rallying snare drum tempo, building to another tense and charged orchestral workout and further use of AFO phrases until an exhilerating percussive finish. The album closes with a typically short but suspensful final cue (Welcome Aboard, Sir), as the President is left dangling in mid air before being winched in to the rescue plane with the main theme reprised for a rousing coda.

Wisely the Varese soundtrack album focusses on portions of the Goldsmith score, after all he was the main composer and I'm glad this short album never became a mix of Goldsmith and McNeely. Though you are left wanting more. Even Goldsmith himself remarked to Robert Townson that he wanted to include the choral music he wrote, but the re-use fee costs became too prohibitive.