---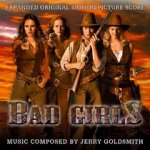 Try
& Buy From



---

Music Conducted By
Jerry Goldsmith

Orchestrations By
Alexander Courage

Recorded By
Bruce Botnick

Performed By
The National Philharmonic
Orchestra

Album Produced By
Jerry Goldsmith

Label
La-La Land
LLLCD 1169


Previous Release(s)
Fox Film Scores
72445-11084-2

Year Of CD/Film Release
2011/1994

Running Time
60:27

Availability
Limited Release

---
Cues & Timings

1. The John (2:19)
2. The Hanging (2:06)
3. Which Way?* (:42)
4. The Snake (1:20)
5. The Saw Mill* (1:56)
6. Keep Moving* (:57)
7. Bank Job** (5:16)
8. The Gang/The Posse* (:56)
9. Return to the Fold* (4:06)
10. Don't Hurt Me* (1:45)
11. Jail Break (3:27)
12. No Money (2:09)
13. The Guests* (:36)
14. Welcome to My Home* (1:20)
15. The Pleasure of Your Company* (:48)
16. Ambush (5:45)
17. What's Your Name?* (1:18)
18. The Claim* (:25)
19. Together* (:39)
20. I Shot Him** (2:46)
21. Put It On* (1:32)
22. River Crossing* (:34)
23. Rescued* (3:03)
24. Josh's Death (3:41)
25. No Bullets (3:53)
26. My Land/End Credits (6:53)

* previously unreleased
** contains previously unreleased material
---
Soundtrack Ratings

Disappointing

Functional

Average

Good

Excellent

Outstanding




Bad Girls

Jerry Goldsmith returns to one of his most musically rewarding genres, the western. Shame the movie didn't quite turn out to be the 'Thelma And Louise' on horseback, but it didn't stop Jerry Goldsmith writing one of his most entertaining soundtracks.

The Bad Girls theme is immediately introduced during the opening cue (The John), a light and tender theme for the girls, that if anything is the complete opposite to their reputation. Goldsmith's lovely theme is a perfect mix of synth and warm strings, that makes for a beautiful, melodic opening.

The Hanging kicks off the action proper and the theme is transformed into a blistering set piece with the girls escaping town to a crash of cymbals and a full orchestral workout of the main theme. This cue is actually made up of two sequences, as things calm down in the middle section before Drew Barrymore's capture of a runaway wagon kicks Goldsmith's theme back into action with more rhythmic percussion and brass.

Bank Job remains a score highlight; a brooding suspense cue that builds the tension through some classic Goldsmith 'south of the border' manoeuvres, with castanets, guitar, timpani, piano all entering the fray and building the suspense until a street battle ensues and the cue transforms into another cacophony of orchestral action. Goldsmith builds further on his action theme with workouts in the lengthy Ambush and exhilarating finale - Josh's Death. Here Goldsmith uses Ramboesque ostinatos with thundering snare and bass drums and heavy brass lines, for the violent gun battles and horseback action.

Bad Girls is essentially an action score, but does feature a handful of quieter moments and an opportunity for Goldsmith to tinker with solo instruments. The delightful humour of the Jail Break is noteworthy for triangle and a toe tapping tempo, while No Money and I shot Him introduce melancholy for some darker moments. The score is resolved in the slow burning My Land which takes in one more crescendo of Goldsmith's brilliant theme before closing with a guitar lead reprise for the credit roll.

The Bad Girls CD was one of the few scores issued by the, short lived, Fox Film Scores label and quickly went out of print. La-La Land re-issued the score in expanded form in 2011 with liner notes and DVD artwork. A slight improvement over the original bland cover. Noteworthy is a solid recording by Bruce Botnick, who extracts a lot of detail from Goldsmith's score, especially for the solo instruments. Triangle and castanets sound especially transparent while snyth work integrates beautifully with the large string section.