---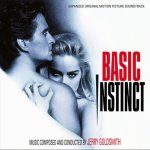 Try
& Buy From



---

Music Conducted By
Jerry Goldsmith

Orchestrations By
Alexander Courage

Recorded By
Bruce Botnick

Performed By
The National Philharmonic Orchestra

Albums Produced By
Jerry Goldsmith

Label
Quartet Records

Previous Release(s)
Prometheus
XPCD 154
Varese CD

Year Of CD/Film Release
2015/1992

Running Time
125:33

Availability
Limited Edition Release

---
Cues & Timings

DISC ONE: THE FILM SCORE

01. Main Title / The First Victim (3:45)
02. Catherine and Roxy (5:17)
03. Shadows / Profile (1:30)
04. I Don't Smoke (2:48)
05. Crossed Legs (4:53)
06. Beth and Nick (2:24)
07. Night Life (6:04)
08. Home Visit (1:12)
09. Your Wife Knew (1:48)
10. What's Between You? (0:55)
11. One Shot (1:28)
12. Kitchen Help (4:02)
13. Pillow Talk (5:04)
14. Morning After (2:32)
15. Roxy Loses (3:39)
16. Catherine's Sorrow (2:44)
17. Wrong Name (2:24)
18. She's Really Sick (1:33)
19. It Won't Sell (1:06)
20. The Games Are Over (5:53)
21. Evidence (1:44)
22. An Unending Story / End Titles (9:08)

Total Disc Time: 71:59

DISC TWO: THE 1992 SOUNDTRACK ALBUM

01. Main Title (Theme from Basic Instinct) (2:15)
02. Crossed Legs (4:53)
03. Night Life (6:04)
04. Kitchen Help (3:59)
05. Pillow Talk (5:01)
06. Morning After (2:31)
07. The Games Are Over (5:39)
08. Catherine's Sorrow (2:43)
09. Roxy Loses (3:18)
10. An Unending Story (7:58)

Bonus Tracks

11. The First Victim (R rated alternate) (1:37)
12. Beth and Nick (R rated alternate) (2:13)
13. Pillow Talk (R rated alternate) (4:51)
14. That's Real Music (0:27)

Total Disc Time: 53:34

---
Soundtrack Ratings

Disappointing

Functional

Average

Good

Excellent

Outstanding






Basic

Instinct

Jerry Goldsmith's quintessential Paul Verhoeven score remains one of the composer's finest achievements. In latter years Goldsmith revealed it to be one of his most difficult projects, specifically coming up with the movie's musical identity and at one point considered throwing in the towel. Thankfully Verhoeven would have none of it and where a less a man would have accepted Goldsmith's resignation Verhoeven inspired the composer to work on. Ironically in the end the director pointed out a secondary theme that Goldsmith had already written which fitted perfectly. Goldsmith had seemingly achieved the impossible and created a theme that would encompass the multi faceted personality of Catherine Tramell in a ground breaking piece that remains as iconic as the controversial sex scenes. Once established his sensual theme quite rightly went on to carry a number of key scenes which required little deviation. First Victim, Kitchen Help, the orgasmic Pillow Talk, and Morning After all favour repeated workouts and showcase the inspired use of electronics, strings and woodwinds to create a uniquely erotic piece that conveys a beauty behind the notes.

Goldsmith's score was quite rightly recognised by the Academy for an Oscar nomination, but stupidly denied a statue in place of a Disney soundtrack? It remains almost as crueller blow as his failure to win for Star Trek TMP. But thankfully Goldsmith's classic music continues to strike a cord over ten years later with this new CD of the complete score. Prometheus' new disc includes an abundance of crucial missing highlights such as the lengthy opener Catherine And Roxy; here Goldsmith sets the style for the whole score, developing a meandering variant of the theme for a journey to the first encounter with Tramell. Perhaps Goldsmith didn't include this cue on the Varese disc as he felt similar bases had been covered in the latter cue Catherine's Sorrow, though this cue has an identity all of its own when a contemplative Herrmann moment is introduced that only a composer like Goldsmith could have weaved in so beautifully. Of course, Verhoeven points to Hitchcock's Vertigo as an influence throughout the movie, specifically in the way it was shot and so Goldsmith is to some extent forced into scoring a number of moments in the Herrmann tradition.

Basic Instinct is more about the games people play rather than gratuitous sex and violence, and this is the essence of Goldsmith's approach to the score revealing an edgy energy, sharply phrased work that remains as manipulative and alluring as Tramell herself and accept for a bombastic source cue he wrote for the use of a Hell Raiser scene (That's Real Music) the composer doesn't deviate weaving his web until all her victims are either dead or have completely succumbed to her. Pick almost any cue here and you're drawn in to this intensely personal work. You can't help but be overwhelmed by Goldsmith's craft especially sampling the previously unreleased cue Don't Smoke, with it's sublime use of Horn and then follow it with Crossed Legs as Tramell unleashes her sexual power, with Goldsmith's harp proving just as overwhelming to the scene as Tramell not wearing any knickers.

Goldsmith's action writing also makes an appearance in Basic Instinct and augments the smouldering sex by throwing in some exciting car chase cues. It's here where Herrmann would have failed miserably drawing all the wrong attention and it is here where Goldsmith soars effortlessly. Forget the heavy handed orchestral frenzy that Verhoeven wanted for the ice pick scenes (First Victim/First Victim Alt), instead go to Night Life, in part a wild car chase along a precarious mountain road, and then on to Roxy Loses as Curran goes head to head with Tramell's lover and her Lotus. Goldsmith hits the mark with an explosive torrent of brass and strings augmented by snare drums and electronic beats before a tragic coda signals her demise.

Your Wife Knew is one of those key moments where Goldsmith introduces a minor secondary theme, almost resonating as powerfully as his main one and rewrites the sexual tension developing between Curran and Tramell. One Shot is an effective cue, one of those moments Goldsmith probably writes in his sleep but some how injects more emotion into one and half minutes than another guy's whole film score. Here Curran is shown the body of a fellow cop whom he is now prime suspect for killing. Goldsmith builds a tense ticking synth motif before Piano and deep brass washes over into a chilling statement that has goose pimples popping up everywhere. While Wrong Name benefits from a good portion of electronics joined by that plodding Piano motif that signals time is running out. She's Really Sick increases the tension further before strings introduce a further statement of the main theme.

It Won't Sell is another intriguing cue, but sounds rather too bright here, nonetheless Goldsmith's aim for a solemn reading of Tramell's theme is realised as she snubs Curran's love. Tramell shows some degree of emotion with the previous highlight Games Are Over and there is almost a sign of a possible happy ending. Here Goldsmith's music is deliberately confusing, making no effort to guide the audience whatsoever. His intentions to mislead the listener by resurrecting the theme with a melodic richness not heard before only confound matters, but don't believe that Piano and any odd electronic counter measure hovering in the background. Games Are Over closes as Curran's friend; Gus is brutally murdered but not before he peaks his head out of the elevator door as it opens at each floor. You know his end is coming but Verhoeven and Goldsmith really know how to play the audience. Goldsmith's probing electronics seemingly hanging there in space, increasing in intensity before the inevitable blood bath. The composer then unleashes a customary barrage of sound for synth drums and brass as Curran arrives to find his friend slain. While Evidence follows it up and appears to tie all the loose ends up and Goldsmith transcends his theme with more strings but still leaves a nagging doubt with those electronics.

Unending Story is a final variation on the theme for Curran's second fling with Tramell, but it seems to be a different take to the movie version. Goldsmith's unsettling use of straining synths to build up to a monumental orgasm remains as terrifying as it is erotic with the composer flooring the audience with tantalising strings and a melancholy piano motif oozing wrought passion. But it isn't over yet as the theme explodes into an enormous orchestral sway of sound as Tramell's power is celebrated in an astounding orchestral crescendo. The cue then closes with a suspect end credit which appears to be made up of earlier pieces, most notably Main Title and Pillow Talk.

Basic Instinct remains one of Goldsmith's career masterpieces and a new CD supplemented with extra music is very welcome indeed.