---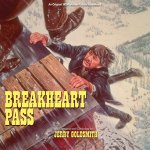 Try
& Buy From



---

Music Conducted By
Jerry Goldsmith

Orchestrations By
Arthur Morton

Recorded By
-

Performed By
The Hollywood Studio Symphony

Album Produced By
-

Label
Kritzerland KR 20025-4

Previous Release(s)
La-La Land Records LLLCD 1044
Pony Boy PBCD 1002
POO LP101 LP

Year Of CD/Film Release
2013/1976

Running Time
49:43

Availability
Limited Edition (1000)


---
Cues & Timings



1. Breakheart Pass – Main Title
2. Free Ride/Hot Stove
3. Medical Supplies
4. The Trestle
5. On the Move/Runaway
6. No Word Yet
7. Night Watch/Help Yourself
8. Who Are You?
9. The Casket/Box Car Fight
10. Make Up Your Mind/Leaving the Fort
11. A New Friend
12. Here They Come Part I
13. Here They Come Part II
14. Raiding Party
15. No Entry
16. Last Battle
17. Reunited/Breakheart Pass – End Credits

BONUS TRACKS

18. Here They Come (film version)
19. Four Styles
20. End Credits (alternate mix)




---
Soundtrack Ratings

Disappointing

Functional

Average

Good

Excellent

Outstanding






Breakheart Pass



Jerry Goldsmith's third score for director Tom Gries was the railroad western adventure Breakheart Pass written by Alistair Mclean. It remains one of the composer's more interesting assignments for the western genre. Essentially for being more of a murder/mystery set aboard a wild west steam train rather than the usual Cowboys and Indians storyline. Though of course they do appear.

Goldsmith begins with an exhilarating Main Title, with guitar and maracas for the locomotion of the engine, while woodwinds, piano and trumpet complete the picture of a wild west train steaming across a hostile wilderness. From here on in though this score is essentially confined to the interior of the train, as Charles Bronson's Secret Service Agent attempts to discover a conspiracy to sell arms to a vicious band of outlaws, with the exchange taking place at Breakheart Pass. Throughout these sequences Goldsmith provides some extremely claustrophobic and unsettling scoring for the espionage, murders and confrontations with very avant-garde writing for strings, castanets, anvil and a plethora of distorted, stabbing and throbbing electronics. The highlight during these cues though is the 7 minutes of The The Casket / Box Car Fight, with Goldsmith providing confined gritty suspense moves showcasing brooding strings, crackling brass and crisp percussion.

Though essentially a violent thriller, Goldsmith does get a chance to show off his triumphant theme in short sharp bursts for most of the exterior shots of the train trundling through the mountains and the action finale as the bad guys are thwarted. While a melancholy variation of the main theme provides a nice contrast for Bronson's lonely agent, John Deakin, with a further variant for a possible love affair with the story's only female character; Marcia Scoville. The Deakin theme returns for the aftermath with an unusually haunting final cue which sees the bad guys dead or in custody, but Deakin standing alone in the snow as the screen freezes and draws in the rousing end credit and elaborate coda.

The Breakheart Pass soundtrack had a strange past. We had a Japanese boot LP on the Poo label, with monophonic sound and about 27 minutes of score, with one track repeated. For most Goldsmith fans this disc was a prized possession in their collections. However, that was until an impressive CD appeared in the early 90's with the complete score, though still in mono. Although labelled a promotional release with basic artwork, this disc is still classed as a boot, though some believe it was actually pressed by an 'official source'. Then we had the first official release of this brooding but exciting western score, thanks to La-La Land. This sold out and we had a short 1000 copy re-issue with one missing cue and a cue created editorially by the film makers, which some thought was an actual missing cue from the score.Sadly the source is still mono but it is a slight improvement on the previous CD in terms of less hiss and considering it is mono is quite dynamic. Play it with a Surround Sound Processor and the fidelity is improved further.