---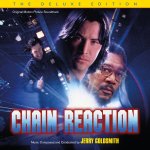 Try
& Buy From


---

Music Conducted By
Jerry Goldsmith

Orchestrations By
Arthur Morton
Alexander Courage

Recorded By
Bruce Botnick

Performed By
-

Album Produced By
Jerry Goldsmith
Bruce Botnick

Label
Varèse Sarabande
CD Club VCL10151160

Previous Release(s)
Varèse Sarabande
VSD-5746

Year Of CD/Film Release
1996/1996

Running Time
30:58

Availability
Normal Release


---
Cues & Timings

1. Meet Eddie (4:53)
2. Open Minds (2:47)
3. Invaders (1:04)
4. Too Late (2:28)
5. Aftermath (1:12)
6. Questions (1:45)
7. Can't Stay (1:44)
8. Visitors /The Meeting (4:25)
9. Be Safe (5:52)
10. A Song / The Observatory (2:40)
11. Getting There / C Systems (4:15)
12. Ice Chase (5:52)
13. The Old House (2:50)
14. Assassins (5:44)
15. The Museum (4:01)
16. Sardines And Crackers (1:05)
17. Lily And Chen / Eddie (1:29)
18. The Number / Deeper In (2:19)
19. No Solution (2:48)
20. My Job / The Deal (1:42)
21. Well Done (2:02)
22. System Down (2:28)
23. On Your Way (1:50)
24. Inside The Plant (2:01)
25. Open Door (Extended) (3:18)
26. Out Of The Hole (3:35)

---
Soundtrack Ratings

Disappointing

Functional

Average

Good

Excellent

Outstanding






Chain Reaction



Goldsmith's score to Chain Reaction is a very polished symphonic one, augmented with some good synthesiser work and electric guitar. Chain Reaction benefits from being quite a long score, with cue after cue running into each other and effectively building tension and moving the story forward. Witness the montage where we see the FBI tailing and listening in on Shannon, the mysterious company man. Goldsmith plays every moment, championing militaristic drums and 'Patton like' trumpet motifs. It may not be a classic score in the overall scheme of things, but it shows how good Goldsmith is and how much we take his music for granted.

The CD opens with a surprisingly sensitive, but weary main theme (Meet Eddie) for both Eddie and the environmental issues of the movie. Synth work remains in check as strings and woodwinds carry the theme, while a pop beat joins guitar as we see Eddie at work. Eddie's theme gets a warmer feel in the latter cue, Open Minds, with its graceful brass statements, and a melodramatic symphonic resolution in Out Of The Hole.

Assassins is an ominous piece where Eddie and Lily are stalked by killers. Goldsmith's electronics are second to none and here there is a wealth of new sounds to enjoy before thumping percussion breaks through for the inevitable hand to hand combat. This cue plays over an additional sequence as the FBI monitors Shannon's mail and visitors, with Goldsmith providing a very cool transparent sounding snare drum meeting a low end brass motif.

At over 5 minutes in length, Ice Chase, is the stand out cue highlighting classic stop/start action writing. The cue builds steadily but as the chase begins Goldsmith quickens the tempo and the cue explodes with deep brass and high strings as the main action motif kicks in. By the time the chase across the frozen river takes off Goldsmith is absolutely flying. Goldsmith completes his action work with System Down and Open Door. These two cues could have easily played as one piece, as a countdown scenario kicks off a pulsing variation of his action theme, now joined by a pounding synth beat.