---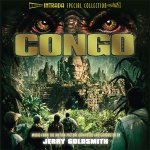 Try
& Buy From



---

Music Conducted By
Jerry Goldsmith

Orchestrations By
Arthur Morton
Alexander Courage

Recorded By
Bruce Botnick

Performed By
-

Album Produced By
Jerry Goldsmith

Label
Intrada Special Collection Volume 220


Previous Release(s)
Epic
480938

Year Of CD/Film Release
2013/1995

Running Time
62:49

Availability
Normal Release


---
Cues & Timings

The Album

1. Spirit Of Africa/The Expedition* 2:42
2. Zinj 1:17
3. The Eye 0:24
4. Meet Amy 2:43
5. Something I Lost (Alternate) 0:29
6. Meet Monroe Kelly 1:39
7. Road Block 0:39
8. Crossing The Border 1:29
9. Bail Out* 2:58
10. No Customs* 1:49
11. Deep Jungle - Picture 1:59
12. The Ghost Tribe - Revised 2:04
13. The Rapids 0:39
14. The Symbol 0:47
15. Hippo Attack* 2:26
16. The Other Side - Revised 1:17
17. Crash Site* 1:59
18. Sad Amy 0:37
19. Gates Of Zinj* 4:03
20. Help Me 2:18
21. We Are Watching 1:49
22. The Mine 0:53
23. Amy's Nightmare* 2:11
24. Kahega* 2:18
25. Amy's Farewell/Spirit Of Africa/End Credits* 10:29

Total Album Time: 52:45

The Extras

26. Something I Lost 0:20
27. Deep Jungle - Album* 2:33
28. The Ghost Tribe 1:21
29. The Other Side 1:20
30. The Collapsed City 2:21
31. The Villagers Chant (James Newton Howard/Lebo M) 1:50

Total Extras Time: 9:58

* Original Album Track

---
Soundtrack Ratings

Disappointing

Functional

Average

Good

Excellent

Outstanding




Congo (album)

Jerry Goldsmith has always scored well with ethnic settings and a chance to play to the grand vista's of the African wilderness was an opportunity not to be missed. Congo, the movie, was an attempt to cash in on Crichton mania after the massive success of Jurassic Park. But Congo, the book was not a major success and a movie version had been talked about before back in the early eighties under the direction of Crichton himself and with Goldsmith scoring. This was aborted and some would say Congo still hadn't improved enough to warrant a major summer movie event in 1995. Congo wasn't that well received by critics but it didn't stop it from going on to make some good international box office though.

Goldsmith begins with a celebratory opening for the plains of Africa introducing an enthusiastic African vocal from group Lebo M. Goldsmith has always done well with instrumental support to vocal arrangements and this is no exception. Goldsmith builds the theme with a plethora of traditional and ethnic percussion, and with a superb recording, it absolutely pounds your speakers as the orchestra surge forward with the composer's main theme. The cue concludes with a moment in Space as a Satellite orbits and Goldsmith obliges his fans with a homage to the Space Station from Star Trek TMP. Wonderful!

Next comes classic Goldsmith action™ with an exciting Bail Out sequence. Again those drums kick in a fast tempo and as strings and brass build tension, cymbals crash as rockets explode outside the plane. As the occupants escape Goldsmith introduces a wild and crazy motif for those who have never jumped before. Once on the ground, the music settles a little as the team trek across the hostile, but beautiful landscape, with Goldsmith setting up his main theme for the kind Gorilla Amy. It's playful and pretty and with some synth embellishments makes for a warm counterpoint to the looming suspense.

An unusual Hippo Attack launches the third act and causes Goldsmith to kick in ominous brass before we make it to the film's finale locale and a face off and battle with the vicious prehistoric Gorilla's that guard the Diamonds the team seek. Here the action is far too brief (a fault of the film) and Goldsmith's finale pieces don't hang around long enough. It's a shame because this is brutal scoring and a repeating pounding motif for the vicious attacks hits all the right marks.

A flourish of music signals Amy's Farewell and stilted playing for a volcanic eruption finish the score and leave way for a lengthy and stirring end credit, reprising Lebo M's vocal, but now with full orchestral support. Good stuff.