---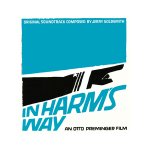 Try
& Buy From



---

Music Conducted By
Jerry Goldsmith

Orchestrations By
Arthur Morton

Recorded By
-

Performed By
-

Album Produced By
Doug Fake

Label
Intrada Intrada 7143

Previous Release(s)
Intrada Special Collection Volume 100
SLCD-1007
RCA LPs

Year Of CD/Film Release
2015/1965

Running Time
78:02

Availability
Limited Edition Release

---
Cues & Timings


Expanded Original Soundtrack

1. By The Sleepy Lagoon (Eric Coates)* (1:49)
2. Liz [Liz In Harm's Way] (2:05)
3. Medley: Try Again, Moonburn (2:48)
4. Night Swim [Night On The Beach]** (2:42)
5. Positive Identification (1:34)
6. Relieved Of Duty [Change Of Command] (3:29)
7. Hawaiian Mood (2:01)
8. Silver Sea* (1:47)
9. Family Talk [The Rock And His Lady] (2:51)
10. Long Goodbye [Goodbye] (2:48)
11. Welcome To Toulebonne [Native Quarter]** (2:31)
12. Intermission [The Rock] (1:35)
13. Torrey's Arrival [Battle Theme From In Harm's Way] (2:31)
14. Attack Plans [Attack] (2:05)
15. Mac's Arrival [Love Theme From In Harm's Way] (2:33)
16. Old Swayback* (1:23)
17. One-Way Ticket (1:49)
18. Main Title [First Victory] (2:44)
Total Soundtrack Time: 41:59

Original 1965 RCA Soundtrack Album

19. Love Theme From In Harm's Way (2:33)
20. Liz In Harm's Way (2:05)
21. The Rock (1:35)
22. Native Quarter (2:02)
23. Goodbye (2:48)
24. Positive Identification (1:34)
25. Battle Theme From In Harm's Way (2:31)
26. Night On The Beach (2:08)
27. Attack (2:05)
28. The Rock And His Lady (2:51)
29. Hawaiian Mood (2:01)
30. Change Of Command (3:29)
31. Medley From In Harm's Way: Try Again, Moonburn (2:48)
32. One-Way Ticket (1:49)
33. First Victory (2:44)
Total Album Time: 35:57

*Previously Unreleased
**Includes Previously Unreleased Material


---
Soundtrack Ratings

Disappointing

Functional

Average

Good

Excellent

Outstanding



In Harm's Way
Jerry Goldsmith has been fortunate enough to have collaborated with some of the biggest names in film over his incredible career, and one of the most controversial of them has to be Otto Preminger. Goldsmith has occasionally let slip in interview of the difficult relationship he had with him on In Harms Way and recalled saying to Ernest Gold how he didn't know whether to thank Gold for recommending him to Preminger or not. Gold responding that at least Goldsmith would have some stories to tell of the experience. But any troubles he did have is not evident when it comes to the score, as the composer turned in another impressive work during those formative years. He also got his first on screen appearance as a musician during an early scene at a night club.

Jerry Goldsmith's soundtrack to In Harms Way is an unusual contrast of musical styles. Combining both dramatic orchestral scoring with an abundance of enjoyable source cues. The source music on its own is quite contrasting with Goldsmith nearly having to write in every musical style of the period. For example Liz In Harm's Way is an infectious big band number, while Native Quarter is a shimmering workout, featuring woodwinds and a gyrating tempo for shakers. Night on The Beach features a sensuous and sexy Jazz theme for a late night beach rendezvous, while Hawaiian Mood captures the melodious strains of traditional Hawaiian music. And to round out we have Try Again, Moonburn, which is pure Glen Miller albeit with Goldsmith's distinct musical stamp.

For the dramatic score Goldsmith has two key elements; a reflective love theme and a powerful military march for the Marines and the Navy. The score opens with a typically gorgeous rendition of his Love Theme for two of the film's protagonists. Then moves on to a major theme for John Wayne's character (The Rock). Not surprisingly Goldsmith delivers a rousing processional theme with a martial brassy melody full of rhythmic force. But In Harms Way is more character piece than war movie, emphasised by cues like Goodbye focussing on the feelings of those departing for war and leaving loved ones behind, the beautiful love theme Goldsmith opened with is now melancholic. While Positive Identification introduces some drama before action takes over again for the first attack by US forces on a Japanese held island (Battle Theme). Here Goldsmith marshals a thrusting rendition of his theme for The Rock, followed up by Attack, featuring a charged action set piece with periodic outbursts of brass and percussion.

The Rock And His Lady is another beautiful romantic interlude while Change Of Command is an album highlight featuring a tragic-heroic moment as The Rock is stripped of his command. Goldsmith underlying the sadness and disgrace with woodwinds and dense strings, supported by military drums and a haunting trumpet. A precursor to MacArthur and perhaps even The Last Castle.

One Way Ticket was unused but was intended for the gripping suspense filled finale as Kirk Douglas's guilt ridden character steals a plane for a suicide mission to spot the Japanese fleet. While First Victory closes the album in spectacular fashion. Goldsmith's incredible cue climaxes with a powerful emotional crescendo and ominous coda to scenes of America's use of the atomic bomb on Japan.