---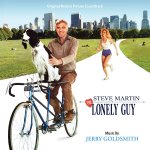 N/A



Try

& Buy From



---

Music Conducted By
Jerry Goldsmith

Orchestrations By
Arthur Morton

Recorded By
-

Performed By
-

Album Produced By
Jerry Goldsmith

Label
Intrada Special Collection Volume ISC 416

Previous Release(s)
MCA Records
36010 (Mini LP)

Year Of CD/Film Release
2018/1984

Running Time
68:05

Availability
Normal Release


---
Cues & Timings

Songs by Various Artists

01. The Lonely Guy
(Performed by Max Carl) (3:38)
02. Oughta Know Love By Now
(Performed by Winston Ford) (3:18)
03. Don't Call Me Lonely
(Performed by Gerard McMahon) (2:42)
Total Song Time: 9:43

Score by Jerry Goldsmith

04. Love Comes Without Warning – Main Title
(Performed by America) (3:38)
05. In Dedication (Revised #6) (1:33)
06. House Hunt (1:23)
07. Rock Source (0:30)
08. Joggers Do It (Version 2) (0:53)
09. No Number (2:15)
10. Where Are You? (0:33)
11. So Empty (0:22)
12. Love Comes Without Warning (Piano Solo) (1:31)
13. I Understand (1:14)
14. Wait For The Beep (Revised) (0:39)
15. The Book (0:56)
16. The Magazines (Version 3) (0:37)
17. Times Past (0:37)
18. Dog Overboard (0:47)
19. Short Show (0:22)
20. The Wedding (Version 2) (3:02)
21. Too Late (0:56)
22. Abandon Ship (Revised #3) (1:30)
23. Love Comes Without Warning (Instrumental #2) (2:54)

Total Score Time: 27:03

Alternates and Revisions

24. In Dedication (Version 1) (1:30)
25. In Dedication (Version 2) (1:32)
26. In Dedication (Revised #1) (1:32)
27. In Dedication (Revised #2) (1:32)
28. In Dedication (Revised #3) (1:31)
29. In Dedication (Revised #4) (1:33)
30. In Dedication (Revised #5) (1:33)
31. Joggers Do It (Version 1) (0:51)
32. Wait For The Beep (Original) (0:40)
33. The Magazines (Version 1) (0:41)
34. The Magazines (Version 2) (0:36)
35. The Wedding (Version 1) (3:02)
36. Abandon Ship (Original) (1:39)
37. Abandon Ship (Revised #1) (1:38)
38. Abandon Ship (Revised #2) (1:41)
39. Abandon Ship (Revised #4) (0:27)
40. Love Comes Without Warning (Instrumental #1) (2:54)
41. Abandon Ship (Wild Synth) (0:14)
42. No Number (Album Remix) (2:13)
43. Abandon Ship (Wild Synth) (0:14)

Total Alternates Time: 31:07


---
Soundtrack Ratings

Disappointing

Functional

Average

Good

Excellent

Outstanding




The Lonely Guy

Back in the early eighties score albums were thin on the ground and pop themed comedies like The Lonely Guy had song dominated soundtracks anyway. So you were lucky for any score tracks to be included, but regardless it was a bitter pill for soundtrack fans to pay good money for things like this.

The Lonely Guy LP was a short album with Goldsmith's contribution relegated to just two cues running for about 5 minutes. The Wedding is a pop themed chase cue with 80's electronics supporting a small orchestra. Still Goldsmith's theme is brilliantly adapted here to give it an exciting workout for strings.

The other cue, titled No Number, is a melancholy love theme that is for the most part dominated again by strings with the final moments adding keyboard to the mix. The album also features a song performed by America (Love Comes Without Warning) which Goldsmith provides the music for, while lyrics are by regular Goldsmith collaborator John Bettis.

Now in 2018 Intrada Records in has finally produced the full score CD release featuring the original LP songs as well as a plethora of alternates and revisions.