News 2016
Planet Of The Apes - New Recording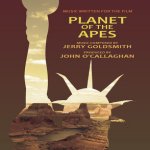 An intriguing project from the writer of the acclaimed book Simians and Serialism John O'Callaghan. A brand new recording of Jerry Goldsmith's legendary score to the Planet Of The Apes. O'Callaghan's album is a natural progression from his detailed book examining the score in minute detail. The accurate recording combines live instruments, some from the original sessions, with synth orchestral elements. Sadly no live orchestra but what John has achieved many should find pretty remarkable though it may not be to all tastes. Still you cannot but applaud the writer for this unusual and incredible undertaking.
Order the CD direct from his website.
Warlock - LP 180 Gram Vinyl Release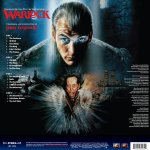 Intrada present a vinyl version of their complete score to Jerry Goldsmith's Warlock. Intrada issued the restored score last year on CD but now film music loving vinyl fans can have the score on two long playing records and packaged in a gatefold sleeve.

Goldsmith's unusual score features the composer in restrained mode; bringing together his love of electronics and a low key orchestral performance to give the likeable horror thriller a different sound to what a lot of fans at the time expected. Ultimately it works and Goldsmith fans are still treated to glimpses of the histrionics that we always loved the composer for.
Vinyl fans order today!
Take A Hard Ride - New Improved Sound!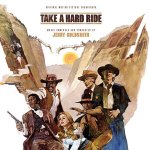 La-La Land Records has announced a re-issue of Jerry Goldsmith's western adventure score from the 1975 Take A Hard Ride; a curious hybrid of Spaghetti and Hollywood western. The lively western score with a memorable theme was originally issued by FSM back in 2000 but the disc has been long out of print. The new disc has striking new artwork as well as dramatically improved sound sourced from the original elements and restored by Mike Matessino. New notes and original track titles also feature.

The disc is released January 26th and is limited to 2000 copies. Order from La-La Land Records.
New Recording of The Blue Max Score And More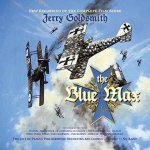 Tadlow present a new recording by the Prague Philharmonic Orchestra of Jerry Goldsmith's acclaimed score for the World War I airborne drama The Blue Max. Goldsmith's early career score is considered one of the composer's greatest works. The epic score features some of the composer's most spectacular action music.

Jerry Goldsmith's original soundtrack has been issued many times over the years on various LPs as well as expanded CDs and received a definitive presentation courtesy of La-La Land Records two years ago, which is now sold out.

Tadlow presents a complete reconstruction of the film soundtrack by Leigh Phillips and is conducted by Nic Raine. A second CD featuring suites and themes from other Goldsmith scores, mainly war themed, completes the package and is available to pre-order from Tadlow and will be released 15th February.

Order from Tadlow today!