News 2015
Eric Tomlinson - Recording Engineer Has Passed Away
Sad news to hear that recording engineer Eric Tomlinson who engineered many of Jerry Goldsmith's London recorded scores has passed away. He of course worked with many other great names including John Williams for Star Wars and John Barry for Bond and James Horner on Aliens.

But Goldsmith fans will remember his name on a number of important and beautifully sounding recordings. The Great Train Robbery recording in particular reveals an abundance of detail and brass always sounded so much more vibrant but still warm in his hands. He last worked with Goldsmith on his Supergirl score.
Chris Malone interviewed Mr Tomlinson and his excellent website features the piece.

Read it at Malone Digital.
In Harm's Way - New Version From Intrada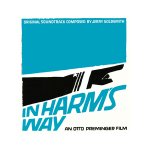 Intrada re-issue a Goldsmith classic featuring one of the composer's best albums. But this time it comes from a newly discovered source and includes a few extra cues previously unreleased! The John Wayne WWII drama looked at America's initial response after the surprise attack on Pearl Harbour and featured a score of diverse musical styles. One part dramatic scoring including some powerhouse action and typical Wayne swagger as well as a plethora of hugely listenable source music that captured the period and location perfectly.

In Harm's Way was Jerry Goldsmith second score to appear on album at the time and was later re-issued on a Japanese LP and two further CDs. But this new disc features the score from newly-discovered multi-track stereo session elements allowing us to hear the score properly for the first time and devoid of the reverb. A must for Goldsmith fans!
Order from Intrada today!
Chain Reaction Deluxe Edition!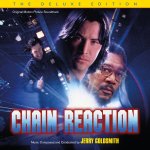 Varese Sarabande's CD Club has announced a deluxe edition of Jerry Goldsmith's action thriller score from the 1996 Keanu Reeves film Chain Reaction. Varese's original release at the time could only manage 30 minutes due to the re-use costs associated with releasing scores performed in the US at the time. Now 19 years later we have the film soundtrack with an abundance of extra music to savour including some standout action set pieces including the countdown sequence and bridge chase. Although this album may not have all the little extras such as alternates that others would include it is nonetheless a very welcome presentation.

Order today from Varese! Limited to 3000 units.
Basic Instinct - New 2 CD Presentation!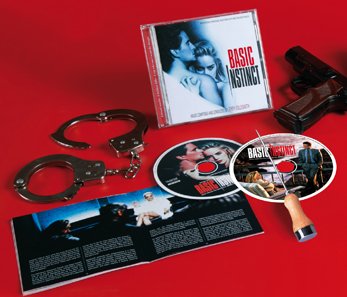 Quartet Records has announced a definitive 2 CD presentation of one of Jerry Goldsmith's most admired works. The sensual and erotically charged score to the controversial thriller from 1992 Basic Instinct. The 2 CD presents the complete film soundtrack, album presentation plus alternates and is newly remixed and re-mastered to make significant sonic improvements over the two earlier releases. The set is limited to 2000 copies.
Goldsmith revealed that this was one of his toughest assignments and nearly threw in the towel. He talked of the close collaboration with director Paul Verhoeven to inspire him to write one of his finest scores, which also garnered an Oscar nomination.
Order from Quartet Records!
Lois Carruth 16/11/1933 - 3/10/2015
Jerry Goldsmith's long time personal assistant Lois Carruth has passed away at the age of 81, she would have been 82 in November. Her name should be familiar to most Goldsmith fans as she was often credited on the composer's many CDs. And if you ever wrote to the composer in the 90s then it was more than likely that Lois was the one who responded to you.

Goldsmith apparently met her for the first time at the recording sessions for Planet Of The Apes where she was working for Lionel Newman. She was the person sent to get Jerry Goldsmith an Ape mask wear as a joke in front of the orchestra.
Stagecoach Soundtrack Album From Intrada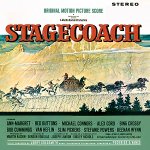 Intrada announce a 2 soundtrack CD from the Mainstream archive of albums. Along with The Heroes Of Telemark by Malcolm Arnold, the disc includes Jerry Goldsmith's original album re-recording for Stagecoach. Although available from Mainstream before, this new presentation uses the actual recording session tapes for the first time which reveal a superior sound. This is the re-recording conducted by Alexander Courage which for many is a far superior presentation of the enjoyable Goldsmith western score. Order today from Intrada!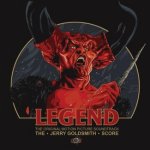 For those film music fans who still prefer the sound of vinyl over CD or download then you would have noticed the LP format is far from dead and soundtrack fans are starting to see more and more scores return to the format. For Goldsmith fans we have Rudy from Varese due October and from Silva Screen Legend over two LPs available September. Intrada too should have a vinyl title coming and some think this could be a Goldsmith title as well.
The Secret Of N-I-M-H On Intrada CD!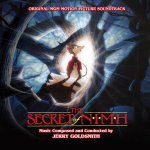 Jerry Goldsmith's lovely orchestral score for Don Bluth's splendid 1982 animated feature film comes to Intrada and in a slightly expanded form. The popular album has appeared on the Varese label in the US twice as well as TER a few times in the UK. But fans have wanted a complete presentation for a long time now. Sadly that won't happen as the full soundtrack appears lost to the ages but it wasn't for a lack of trying on Intrada's part and their exhaustive search did yield a big reward - one extra cue, which amazingly was the main missing highlight - "At Your Service"! Plus a couple of demos of the song. Plus of course a full remastering.
Order from Intrada today!
The Challenge Blu-ray and DVD!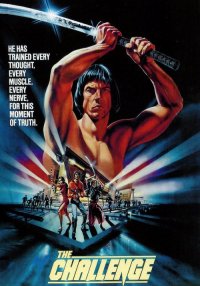 The Challenge from 1982 finally comes to US Blu-ray and DVD in a new HD master. The film has previously only been available on VHS and a German DVD. Specialist label Kino Lorber Studio Classics will be releasing it later this year. No word on any extras at this time.
The movie starred Scott Glenn and Toshirô Mifune and told the story of an American court in the middle of a feud between two Japanese brothers both seeking to own a rare samurai sword. The film featured a number of impressive action sequences and concluded with a brutal sword fight. Jerry Goldsmith's popular action score remains a stunning work featuring some ferocious action cues as well as some beautiful and melancholy interludes. Luckily we have the soundtrack CD and we will now soon have the movie for our collections.

Keep a lookout on the Kino Lorber website for information and ordering info.
Capricorn One Soundtrack Re-issue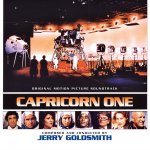 A welcome return of Intrada's film soundtrack release of Jerry Goldsmith stunning 1977 score to Capricorn One. Back in 2005 Intrada premiered the film soundtrack to one the composer's most admired works. Up until this point we had the original album, which was an equally stunning re-recording of highlights made by the composer in London with the National Philharmonic Orchestra.

Intrada's CD proved extremely popular allowing fans to savour the full original soundtrack performance recorded in the US and not surprisingly the limited edition CD quickly sold out.
Now we have an updated re-issue with a few subtle changes; a new mastering for improved sound, an alternate take of one cue, and the source cue "Kay's theme" has now been separated from the short but important suspense cue "Elliot Is Missing".
So if you missed out or want to replace your 2005 version now is the chance!
Order from Intrada today!
The Trouble With Angels CD From Intrada!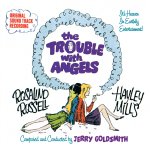 Intrada announce Jerry Goldsmith's lively 60's score to The Trouble With Angels. This new CD presents the stereo album content from the original master tapes for the first time - for superior sound, as well as including the complete film soundtrack for the first time in the only available mono source as a bonus.
The story of a rebellious young girl (Hayley Mills) sent to an all Catholic boarding school sparks all sorts of mayhem and brings her to the attention of the stern Mother Superior (Rosalind Russell). But as the story develops the young girl finds her calling and makes the decision to in the end stay and become a Nun.
The Trouble With Angels originally appeared on LP at the time of the film's release and later on CD a few times, but sounding pretty inferior. This definitive presentation gives Goldsmith fans the version they have been waiting for. Goldsmith's 60's period score is at time sweet and melancholy as well as humorous and fun, and a complete contrast to the music the composer is often known for.
Order from Intrada today!
Gremlins 2 Deluxe Edition From Varese!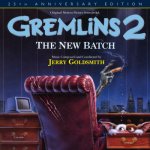 Varese Sarabande's infrequent CD Club of expanded titles has had a shot in the arm with the release of Jerry Goldsmith's wild and crazy sequel score to Gremlins. The New Batch may not have been as successful, or as likeable as the original but Dante's kitchen sink attitude to throwing in as much craziness as possible inspired Jerry Goldsmith to write one of his funniest scores. Along with the returning theme for Gizmo and the manic classic Gremlins rag Goldsmith threw in a fabulous Rambo parody, sleazy Jazz and electrifying new music for the odd new Gremlins that hatch; along with an abundance of silly sounds mixed with orchestra and synths.
Limited to 3000 Copies. Order from Varese today!
The Music Of The Planet Of The Apes - The Book!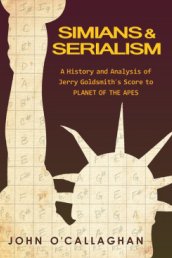 A new book titled Simians and Serialism examines and dissects in detail Jerry Goldsmith's acclaimed avant-garde score to the 1968 sci-fi classic The Planet Of The Apes.

The book is written by John O'Callaghan and is available as a 272 page paper back book only. The book also features 49 illustrations.
It can be purchased online. Read more from the author..
http://www.pithikosentertainment.com/products.html
The Planet Of The Apes Film And Score - Live!
The recent trend to show a classic film and perform the accompanying score live in front of an audience continues with the announcement that The Planet Of The Apes - the 1968 original directed by Franklin J Schaffner and of course featuring the magnificent Jerry Goldsmith score will premiere in London August 28th at the Royal Festival Hall with the BBC Concert Orchestra.

Order tickets from their website.
Judge Dredd Trailer Music On Intrada 2 CD Set

Intrada have confirmed they will be replacing disc 1 of the Judge Dredd set around mid June with the correct and original Jerry Goldsmith trailer music. Those who have already had their orders fulfilled will receive a replacement via post automatically. New orders placed will not ship until they have the replacement disc.
Great news and superb customer service from Intrada. In the meantime if you already have this set enjoy Alan Silvestri's epic score.


Goldsmith was originally to have scored Dredd but due to a busy schedule was unable to score more than this early trailer piece. But what an incredible 47 seconds it was! Goldsmith wrote one of his most intense orchestral action themes and proved a tantalising glimpse of what the score might have been like. The trailer music has proved very popular over the years with a number of attempts at re-recording it but now for the first time we have the original and of course the main event for this set; Alan Silvestri's superb score over two CDs.
Order from Intrada Records today!
The Ghost And The Darkness 2CD Set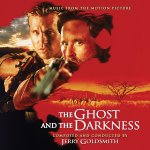 Intrada has announced their 2 CD presentation of Jerry Goldsmith's adventure score The Ghost And The Darkness. The massive set features the complete score and numerous alternates along with the missing music not featured on the original 1996 album. The set is completed by the original album, which contains unique versions of the main score cues.
The Ghost And The Darkness told of an unusual true story set in 1880s Africa in which two lions repeatedly attacked a British bridge building project killing many workers. And the efforts of two men to kill the lions.

Jerry Goldsmith was fortunate to score a big screen epic reminiscent of the days of the grand Hollywood adventures from the 50s and 60s. The composer captured each element of the story in his music; the lead character's Irish heritage, the English colonials who fund the project and the exotic African setting and its people. Exotic percussion and chanting taking centre stage, juxtaposed by a whimsical and touching Irish theme that often develops into a powerful statement for the British. Aggressive and frightening scoring for the lions themselves bring the full force of the orchestra and Goldsmith's wonderful ability at scoring action before making way for an eerie ghost like secondary theme for the lions ability to evade death or capture.
Jerry Goldsmith Tribute Concert Paris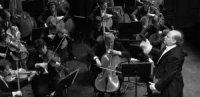 On May 31st at 17:00 hours at the Theatre Des Champs Elysees in Paris there is a special tribute concert to composer Jerry Goldsmith featuring his music from Capricorn One - Gremlins - Alien - Planet Of The Apes - The Boys from Brazil - Rambo - Basic Instinct - The Shadow - Air Force One - The Omen - The Russia House and The Mummy.

The concert is conducted by Laurent Petitgirard featuring the Orchestre Colonne.

Ticket booking is available now. Visit their website for all the details.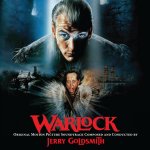 Intrada announce an expanded version of their Warlock soundtrack from 1989. Along with an improved overall sound the electronic elements that were dialled out of the first soundtrack by the composer have now been restored!
Warlock remains quite an oddity amongst Jerry Goldsmith's modern era scores and has divided fans ever since its release. On hearing Goldsmith was scoring an action adventure horror movie many thought it would mean a large scale orchestral score perhaps with Omenesque chorus! But what Goldsmith wrote was a complete contrast; a low key score with generally muted orchestral forces. A number of action sequences did bring us some Goldsmith histrionics but there stop-start nature was in contrast to his rhythmic action scoring style of the time.

Ultimately Goldsmith's approach was correct and complimented the enjoyable film perfectly. For the original album Goldsmith removed numerous synth work to favour orchestra but these layers did rob the listener of a better listening experience.
Now you can enjoy the complete score with everything restored. Order from Intrada today!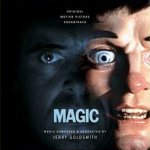 La-La Land Records announce a new version of the Jerry Goldsmith soundtrack Magic. Previously released by the Varese CD Club in 2003 and now out of print this should appeal to fans who missed it first time round. As expected the release gets a re-mastering as well as including the short 25 second cue missed off the Varese release "We're gonna be a star". Plus booklet and a great new cover.
The late great Richard Attenborough's 1978 thriller saw a young Anthony Hopkins play a failing stand up comedian who's career is turned around when he introduces Fats, a ventriloquists' dummy, to his act and becomes a major star. But inevitably the personality of Fats begins to take over and Hopkins' unstable character fights to retain his personality with tragic consequences, endangering the life of lost love Ann Margaret.

Goldsmith provided a subdued thriller score, one of his finest. His gentle slow burning main theme remains the haunting highlight juxtaposed with violent harmonica to signal Fats' influence. As well as a gentle love theme variant, typically melancholy in tone, for his relationship with Ann Margaret.

Goldsmith revealed in interview that Hopkins actually attended the sessions for the score and entertained all in attendance by proving he could throw his voice just like his character.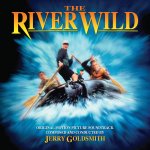 Intrada announce a complete presentation of Jerry Goldsmith's exciting action thriller score for the 1994 film The River Wild. The running time of the score is now doubled and also comes with a plethora of alternates. Goldsmith's rousing adventure score is anchored by an arrangement of the traditional piece 'The Water Is Wide'. Goldsmith transforms the theme into a beautiful arrangement but its Goldsmith secondary material for the breathtaking vistas, scary white water rapids and the darker thriller elements that give fans the chance to savour Jerry Goldsmith adventure scoring at its best. Round it out with a detailed recording by Bruce Botnick and you get a fantastic start to 2015.

The 2nd disc presents Maurice Jarre's unused score for the first time. This is a unique opportunity to compare Jarre's take on things with Goldsmith's. Notably Jarre did not use the Water Is Wide until the end credits and provides an alternate theme as well as typically aggressive Jarre style histrionics for the adventure elements.

A fantastic opportunity to own two takes for one film over two CDs! Fans get two composers for the price of one! Order from Intrada now!