News 2017
One Little Indian - Intrada Reissue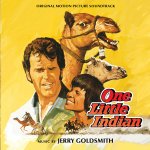 Reissue of rare western score from 1973 that sold out rather quickly when first released by Intrada in 2009. Essentially the same as the earlier release but with a slight re-mastering and a slightly reconfigured booklet.

Goldsmith's trademark western scoring is evident throughout and features a warm main theme for the title character, some powerful Goldsmith western action and some comedic scoring for the unusual mode of transport - a camel.

Back in 2009 this score seemed unlikely to ever be released, even if it still existed. But thanks to Disney taking care of its film music history and Intrada's relationship with the legendary company we got to hear this score in full stereo for the first time. Don't miss out this time!
Order from Intrada today!
Papillon - Complete Edition From Quartet!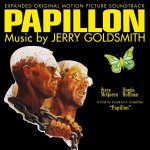 Quartet Records announce a new presentation of a Goldsmith classic - Papillon. The score has been out on several CDs and of course early LP releases. But Quartet, working with Mike Matessino, have unearthed the original multi track masters of the complete sessions in mint condition! The wonderful score is presented for the first time with alternates, extended versions of cues and music not featured in the film. The CD also includes all the source music arranged by Alexander Courage and conducted by Jerry Goldsmith. The package is rounded out with a 20 page booklet.

The CD was limited to just 1000 units and sold out in a short time.
Thriller Volume 2 In The Works!
Tadlow Records has announced a second volume of Jerry Goldsmith music from the classic TV series Thriller. The first volume has proved very popular and James Fitzpatrick has revealed a second volume of TV highlights from Goldsmith scored episodes has already been selected and will be recorded and released later in the year. The scores will again be reconstructed by the incredibly talented Leigh Phillips!

Order volume 1 now - direct from Tadlow!
Poltergeist II - Definitive 3 CD Edition
Intrada Records present a 3 CD set of Jerry Goldsmith 1986 score to the horror sequel Poltergeist II The Other Side. This score has proved amazingly popular over the years making this the 5th incarnation! Intrada's first Jerry Goldsmith CD was this score, but back in 1986 could only release 30 minutes of highlights. They followed this up in 1993 with an expanded release produced by the composer. This was followed by a Deluxe Edition from Varese in 2003 - expanded still further. Enter the Kritzerland label in 2013, who appeared to release the complete version, but notably presenting the film mixes for the first time, revealing far more detail than ever heard before - plus a host of extras making it a 2 CD presentation.

But now Intrada comes full circle and present the score on a specially priced 3 CD set! The first two discs feature the complete score from both the analogue film mixes and the digital mix made by the composer with his engineer Bruce Botnick. Disc 3 for the most part features score highlights sans choir, plus for the first time ever we get to hear Goldsmith's initial presentation of the finale "Reaching Out/The Astral" in two versions one with and without chorus.
Order the definitive presentation from Intrada today!
Hollywood Walk Of Fame Star For Jerry Goldsmith!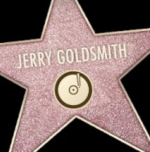 Jerry Goldsmith received his Hollywood Walk Of Fame Star today - May 9th 2017 at a special ceremony on the iconic Walk of Fame on Hollywood Blvd. The event saw Carol Goldsmith and son Aaron Goldsmith alongside tributes from film composers and close friends David Newman and Charles Fox as well as song writer Paul Williams. All had worked tirelessly over a number of years to bring Jerry Goldsmith this lasting tribute which received support from film directors, composers and stars that knew of Jerry's music, or had worked on films with his scores. Letters of support came from Sean Connery, Quincy Jones, Alec Baldwin and Donald Sutherland. As well as support from Fred Schepisi and Paul Verhoeven, to name but a few.

The 30 minute ceremony featured warm and some times emotional words on the person they knew so well and his incredible contribution to music for film and television over his long career.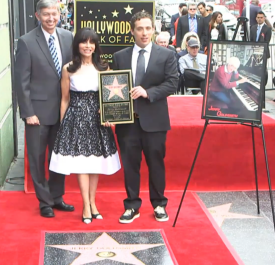 Hollywood Chamber of Commerce President & CEO Leron Gubler with Carol and Aaron Goldsmith standing in front of Jerry Goldsmith's star - the 2611th!

Watch the video of the event on the Hollywood Walk Of Fame You Tube Channel.


Mondo's Alien Vinyl Sets And Alien Covenant Soundtrack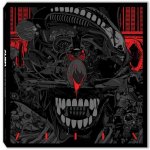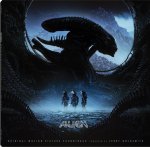 Mondo have issued news of their Alien soundtrack vinyl sets due in September. There will be two versions; one with the film soundtrack over 2 LP sides and a complete version with the same content as the original Intrada CD set over 4 LP sides. Both versions will of course be on 180gram and feature colour vinyl.


As usual the main selling point appears to be the artwork and presentation. Apart from the dramatic front covers the inner sleeves detail the evolution of the Alien creature.

Pre-order from Mondo today:-

2 LP Version
4 LP Version


In other Alien news Jed Kurzel's score to Alien Covenant will feature Jerry Goldsmith's main Alien theme in a number of tracks as well as feature other Goldsmith composed Alien music too. Goldsmith's music has now turned up in parts in all the Alien movies except for Alien³.
Tadlow's Jerry Goldsmith Thriller CD!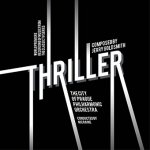 Tadlow's new recording of highlights from the 1960's TV series Thriller is due to be released on May 30th. This exciting recording brings together some of the finest music Goldsmith wrote for television at the beginning of his long career. The TV show came from the mind of movie legend Boris Karloff and featured tales of horror and suspense. It has remained a critically acclaimed show in the vein of the Twilight Zone ever since.

The music has been reconstructed by the incredibly talented Leigh Phillips who has worked with Tadlow on previous Goldsmith re-recordings including The Salamander, Hour Of The Gun and The Blue Max. The CD will feature excerpts and suites from Goldsmith's scores to THE GRIM REAPER, HAY-FORK AND BILL-HOOK, WELL OF DOOM, MR.GEORGE, THE POISONER and YOURS TRULY, JACK THE RIPPER.

To complete the package are notes from TV music expert Jon Burlingame and the music is once again performed by the City of Prague Philharmonic Orchestra and conducted by Nic Raine. The CD is produced by James Fitzpatrick and Leigh Phillips.
Order now - direct from Tadlow!

Star Trek The Motion Picture Vinyl Release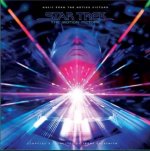 La-La Land Records are releasing a 2 LP set on a 180 gram vinyl of Jerry Goldsmith's legendary soundtrack to Star Trek The Motion Picture. The set follows on from the label's spectacular 3 CD release featuring the complete film soundtrack, alternates, outtakes and album versions. Whether the 2 LPs can hold all of this remains to be seen so it may just be the film soundtrack plus extras. The LP set features alternate artwork and is limited to1500 copies.

La-La Land Records have also just released a 4 CD set of music from the TV series Star Trek Voyager, which of course features Jerry Goldsmith's series theme.

Visit La-La Land Records March 17 to order.