News 2015
Magic Re-issue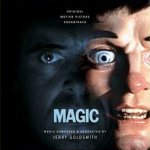 La-La Land Records announce a re-issue of the Jerry Goldsmith soundtrack Magic. Previously released by the Varese CD Club and now out of print this should appeal to fans who missed it first time round. At this time no news on anything extra but I assume it will be re-mastered and does sport a great new cover.
The late great Richard Attenborough's 1978 thriller saw a young Anthony Hopkins play a failing stand up comedian who's career is turned around when he introduces Fats, a ventriloquists' dummy, to his act and becomes a major star. But inevitably the personality of Fats begins to take over and Hopkins' character fights to retain his personality with tragic consequences, endangering the life of lost love Ann Margaret.

Goldsmith provided a subdued thriller score, one of his finest. His gentle slow burning main theme remains the haunting highlight juxtaposed with violent harmonica to signal Fats' influence. As well as a gentle love theme variant, typically melancholy in tone, for his relationship with Ann Margaret.

Goldsmith revealed in interview that Hopkins actually attended the sessions for the score and entertained all in attendance by proving he could throw his voice just like his character.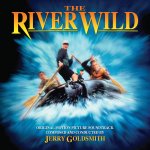 Intrada announce a complete presentation of Jerry Goldsmith's exciting action thriller score for the 1994 film The River Wild. The running time of the score is now doubled and also comes with a plethora of alternates. Goldsmith's rousing adventure score is anchored by an arrangement of the traditional piece 'The Water Is Wide'. Goldsmith transforms the theme into a beautiful arrangement but its Goldsmith secondary material for the breathtaking vistas, scary white water rapids and the darker thriller elements that give fans the chance to savour Jerry Goldsmith adventure scoring at its best. Round it out with a detailed recording by Bruce Botnick and you get a fantastic start to 2015.

The 2nd disc presents Maurice Jarre's unused score for the first time. This is a unique opportunity to compare Jarre's take on things with Goldsmith's. Notably Jarre did not use the Water Is Wide until the end credits and provides an alternate theme as well as typically aggressive Jarre style histrionics for the adventure elements.

A fantastic opportunity to own two takes for one film over two CDs! Fans get two composers for the price of one! Order from Intrada now!