News 2016
Gremlins - 2 LP Set From Mondo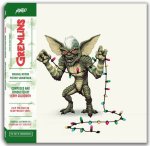 Mondo presents Jerry Goldsmith's fun score to the popular 1984 box office smash Gremlins on a 2 LP 180 Gram set. Previously released on CD by FSM in a definitive 2 CD set, featuring the complete score and original album, this new LP set is for Vinyl fans and of course fans of Mondo's alternative artwork. The striking artwork package is a big selling point for this set which also reacts to water revealing more new art!

Order from 30th November at the Mondo website direct.
Goldsmith Music on Recent Compilations/Sets
A roundup of news on a couple of titles featuring a small amount of Goldsmith music. La-La Land Records' 4 CD set celebrating the 50th anniversary of Star Trek featured an alternate take of Inner Workings from Star Trek The Motion Picture, with a more prominent wind machine. And a demo take of Goldsmith's Star Trek Voyager theme. Plus a 30 second arrangement of the TMP theme for Star Trek The Next Generation.

Order from La-La Land Records

Varese released a 12 CD box of soundtracks - Little Box Of Horrors and bundled in a re-issue of their earlier CD featuring The Mephisto Waltz and The Other.

Order from Varese Sarabande


The Omen - 40th Anniversary Edition CD!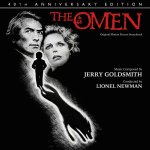 Varese Sarabande present a deluxe edition of the classic Jerry Goldsmith horror movie score to The Omen. Celebrating its 40th anniversary The Omen remains one of films finest horror events and received the perfect musical accompaniment courtesy of legendary composer Jerry Goldsmith. Varese have released the Omen score several times before but this new presentation is now near on the complete score.

Sadly the synth Dog element and the whispering voice cues remain AWOL and Varese have annoyingly not included the coda to the Alter cue, which was on the isolated track on the old LD and later Blu-Rays - so could have been included. Also Varese have kept Goldsmith's original intention for the album of having the main title and end title cues reversed. The soundtrack is newly re-mastered though and also comes with a bonus concert performance of the Omen suite.

Order this new presentation of Jerry Goldsmith's Oscar winning masterpiece from Varese today!
Jerry Goldsmith Soundtrack LPs!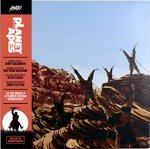 More Jerry Goldsmith soundtrack LP releases are now available with two important scores by the late composer. From Mondo, mostly known for their unusual and alternative album artwork, is a 2 LP set of the legendary Planet Of The Apes soundtrack. The monumental score was presented by Varese Sarabande back in 1997 on CD. Mondo's set is 180 Gram Vinyl, featuring new liner notes and mastered especially for the LP. Limited to 1000 copies.



Order from Mondo today!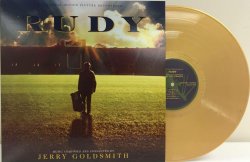 Talking of Varese they have the 1993 acclaimed Jerry Goldsmith score to the sports drama Rudy coming to Vinyl in "Irish Gold". The content is the same as the original album.

Order from Amazon today!






Music Editor Ken Hall Has Passed Away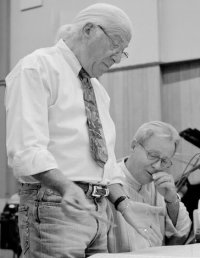 Jerry Goldsmith's long time Music Editor Ken Hall has passed away. The news was reported by Varese Sarabande who has passed on the sad news to film music fans via their Twitter Feed.

Hall originally studied piano but began his career when he broke into the world of TV and then progressed to film music working with the legendary music director Lionel Newman at 20th Century Fox. Hall worked with Jerry Goldsmith for most of his career but he also worked with other famous composers of the past that included Henry Mancini, Lalo Schifrin, John Williams and John Barry.

A music editor is the composer's best ally among the film making team. The music editor prepares the ground work for the film scoring project for the composer before getting to the scoring stage with work on preparing spotting and timing notes. The music editor is invaluable making sure the hits, the composer's calculations, and the click details are correct.

Listen to Ken Hall talk extensively about his work as an editor and his career with Jerry Goldsmith. Film Music Masters Ken Hall Interview
Rambo First Blood Part II - Definitive 2 CD Presentation!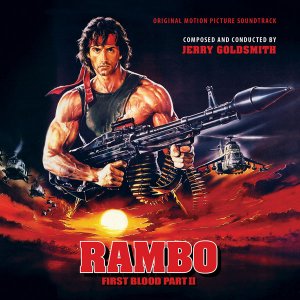 At last the incredible Intrada label have finally been able to present their deluxe presentation of Jerry Goldsmith's jaw dropping 1985 action opus to the First Blood sequel. The remarkable score has appeared twice before; once in the original 1985 album form, featuring many of the score's highlights, but due to the abundance of action music Goldsmith wrote still managed to miss off a good portion of powerhouse music. Then an expanded release in 1999 from Silva Screen featured the majority of this missing music. But the story did not end there; a mythical end title piece not used in the film was missing along with the film intro to Home Flight. Plus a number of cues did not sound as special compared to the original album source.
Now after all these years Intrada have finally been able to present this score to avid fans in its most complete form with even more than expected. The full film score with improved sound over the previous release. And a 2nd disc featuring an alternate mix of most of the score, plus alternates, trailer music and that rare opportunity to hear the end credit from the only known source. Add Intrada's impeccable attention to detail and high quality presentation and Goldsmith fans finally have the release this score deserves!

Order from Intrada Records today!!!!!!!!!!!!!!!!
Jerry Goldsmith Action Figure?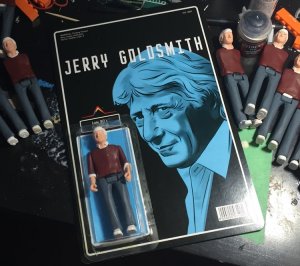 The strangest item linked to the world of film music fandom has appeared on the internet - a Jerry Goldsmith action figure! It really is a bizarre idea but the item does appear real. At the time of posting the hand painted limited run figure is available for pre-order with a $60 price tag and is due for sale at the end of September. The figure itself doesn't actually look that detailed from what can be seen of it and there appears to be no additional parts with the item; surely a baton or manuscript for the composer to hold would have been an idea? The package notes this is 'late 80's Goldsmith'. Check the item out at the Petrox Plastic website!
'Hollywood Walk Of Fame' Star For Jerry Goldsmith!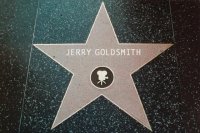 It's been announced, by the Hollywood Chamber of Commerce, that the recipients for a 'Hollywood Walk Of Fame Star' in 2017 will include a star for the maestro himself - Jerry Goldsmith!

Some 2,583 stars have been presented on the Hollywood Walk of Fame since 1960, with a donation of $30,000 required to receive the award. The dates of next year's star ceremonies are still to be announced.
Watch the event on You Tube. Jerry Goldsmith is name checked at around 4:08. Read more at the official website walkoffame.com.
Chinatown - New Definitive Presentation!
Jerry Goldsmith's legendary film score Chinatown finally gets the release it deserves from Intrada Records. This third CD incarnation, following on from two by Varese Sarabande, features both the album content, newly mastered featuring a more natural sounding presentation of the stereo content, as well as for the first time the complete score from a clean mono source - actually from the late composer's own archive.
Goldsmith famously wrote and recorded the score in around 10 days after composer Phillip Lambro's score was rejected at the last minute. Goldsmith often commented how he pictured the make up of the score in his head and knew instantly what it was going to sound like. The composer assembled a small orchestra of strings, four pianos, four harps, two percussionists and solo trumpet. The trumpet became the key though with its haunting rendition of one of film music's finest themes. A piece of film music history now properly preserved by the great Intrada Records.
Order this film music classic from Intrada today!
Disney's Soarin' Around the World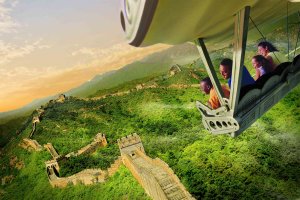 Disneyland Shanghai have debuted the new Disney Ride Soarin' Around the World (in Shanghai it goes by the name of Soaring Over the Horizon). The new ride builds on the success of Soarin' over California and features a new piece by acclaimed composer Bruce Broughton. But the great news is Broughton has paid homage to Jerry Goldsmith by incorporating Goldsmith's stunning Soarin theme into his music!
Soarin' Around the World will be in Disney's Epcot Center in the Summer. Let us hope the music is available from Disney soon.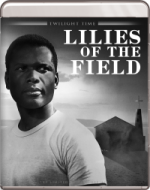 The specialist film label Twilight Time known for releasing films with isolated scores has released a couple of 60s dramas with Jerry Goldsmith scores. Although both The Detective and Lilies Of The Field have now had soundtrack CDs released, both films feature a small amount of missing extra music and the new Blu-rays allow fans access to this for the first time. Note both films do feature some sound effects with some of the music score.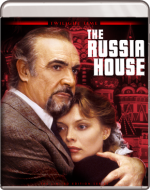 Twilight Time also have The Russia House due for release in July and I would expect this film to be no different and include the isolated score. I hope this score also gets a new CD presentation as well but I have no information on whether that will happen at this time. Admittedly the original lengthy CD was a very good representation of the lovely Goldsmith score but as always to hear an expanded presentation is very welcome for hardcore Goldsmith fans.

Order your Twilight Time Blu-ray titles (multi-region) at Screen Archives!

Powder - Complete Score From Intrada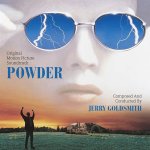 Intrada complete their expansion of Jerry Goldsmith scores previously released by Hollywood Records with the complete score release of Powder! This new CD, following their expansions of Deep Rising and The Ghost And The Darkness, doubles the running time to over 65 minutes.

Jerry Goldsmith went head to head with John Williams for this 1995 assignment and won out in the end to score the film. It's understandable why Goldsmith was so keen to get it as it was a rare opportunity to score a magical and uplifting human drama.

The unusual story involved a shy young man who has white powdery skin as well as mysterious powers linked to lightning. He is, not surprisingly, misunderstood, shunned and tormented by people from his small town. Thankfully he also makes a number of important friends who ultimately show him love, compassion and help him attain his destiny.

Goldsmith almost wrote a mono thematic score for Powder showcasing his wonderful theme throughout the score in various guises; at times sentimental and melancholy but also giving the theme a dramatic workout. Now fans can enjoy all elements of the score in this full on presentation.
Order from Intrada today!
Link CD Re-issue From La-La Land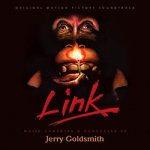 La-La Land Records present another re-issue of this minor 1985 assignment from composer Jerry Goldsmith. The odd film saw a homicidal Orangutan in a remote English farm house terrorising a young Elizabeth Shue. Goldsmith's follow up assignment for Psycho II director Richard Franklin cleanly fused synthesisers with the National Philharmonic Orchestra that made for an exciting often powerful score. A likeable quirky circus like theme for Link himself plays throughout. A brilliant recording by Mike Ross-Trevor is another bonus along with new art from Jim Titus.

This will be the third time on CD for this score. Sadly La-La have not found the complete recordings and this is the same original album content. One for those who missed out on the previous Intrada and old Varese version.

Link is limited to 2000 copies. Order from La-La Land Records!
New Damien TV Series To Feature Goldsmith Music!

The new Damien TV series set after the events of the original Omen film will feature new music from acclaimed composer Bear McCreary. But interestingly there is news the composer and producers are to pay homage to Jerry Goldsmith's iconic Omen music and feature his score in their production. They reveal they had access to the original score and have re-recorded Goldsmith's "Ave Satani" as well as utilising his mournful theme for the Thorn family.

Read more on the composer's own website about creating the music for the intriguing new series and working with Goldsmith's horror classic.
http://www.bearmccreary.com/#blog/blog/damien/
Executive Decision - The Deluxe Edition!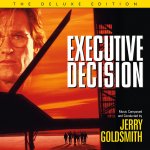 Varese Sarabande's CD Club announces a deluxe edition version of Executive Decision. Greatly expanded over the original 1996 CD which ran just 30 minutes. Action scores were of course Jerry Goldsmith's forte' and this score in particular features its fair share of action and suspense music that only Jerry Goldsmith could do this well every time he was called upon. This new release features the missing action at the beginning of the film - the assault on the Trieste mansion, the exciting powerhouse music for the approach of the Remora on the 747 as well as all of the final approach and crash landing of the 747. Goldsmith headlines with a strident full on military theme, adds some ethnic percussion elements for the terrorists, tantalising suspense onboard the hijacked plane and exhilarating workouts of the theme for the US Air Force Jets that intercept and shadow the hijacked plane.
Order now from Varese - limited to just 2000 copies!
Planet Of The Apes - New Recording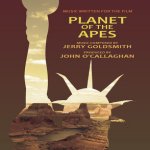 An intriguing project from the writer of the acclaimed book Simians and Serialism John O'Callaghan. A brand new recording of Jerry Goldsmith's legendary score to the Planet Of The Apes. O'Callaghan's album is a natural progression from his detailed book examining the score in minute detail. The accurate recording combines live instruments, some from the original sessions, with synth orchestral elements. Sadly no live orchestra but what John has achieved many should find pretty remarkable though it may not be to all tastes. Still you cannot but applaud the writer for this unusual and incredible undertaking.
Order the CD direct from his website.
Warlock - LP 180 Gram Vinyl Release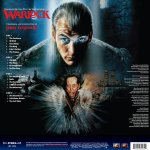 Intrada present a vinyl version of their complete score to Jerry Goldsmith's Warlock. Intrada issued the restored score last year on CD but now film music loving vinyl fans can have the score on two long playing records and packaged in a gatefold sleeve.

Goldsmith's unusual score features the composer in restrained mode; bringing together his love of electronics and a low key orchestral performance to give the likeable horror thriller a different sound to what a lot of fans at the time expected. Ultimately it works and Goldsmith fans are still treated to glimpses of the histrionics that we always loved the composer for.
Vinyl fans order today!
Take A Hard Ride - New Improved Sound!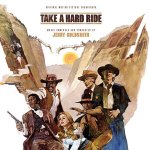 La-La Land Records has announced a re-issue of Jerry Goldsmith's western adventure score from the 1975 Take A Hard Ride; a curious hybrid of Spaghetti and Hollywood western. The lively western score with a memorable theme was originally issued by FSM back in 2000 but the disc has been long out of print. The new disc has striking new artwork as well as dramatically improved sound sourced from the original elements and restored by Mike Matessino. New notes and original track titles also feature.

The disc is released January 26th and is limited to 2000 copies. Order from La-La Land Records.
New Recording of The Blue Max Score And More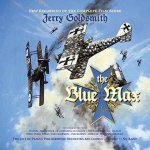 Tadlow present a new recording by the Prague Philharmonic Orchestra of Jerry Goldsmith's acclaimed score for the World War I airborne drama The Blue Max. Goldsmith's early career score is considered one of the composer's greatest works. The epic score features some of the composer's most spectacular action music.

Jerry Goldsmith's original soundtrack has been issued many times over the years on various LPs as well as expanded CDs and received a definitive presentation courtesy of La-La Land Records two years ago, which is now sold out.

Tadlow presents a complete reconstruction of the film soundtrack by Leigh Phillips and is conducted by Nic Raine. A second CD featuring suites and themes from other Goldsmith scores, mainly war themed, completes the package and is available to pre-order from Tadlow and will be released 15th February.

Order from Tadlow today!