---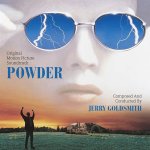 Try
& Buy From



---

Music Conducted By
Jerry Goldsmith

Orchestrations By
Alexander Courage

Recorded By
Bruce Botnick

Performed By
The National Philharmonic Orchestra

Album Produced By
Jerry Goldsmith

Label
Intrada Special Collection Volume ISC 351

Previous Release(s)
Hollywood Records
HR 62038-2

Year Of CD/Film Release
2016/1995

Running Time
65:27

Availability
Normal Release

Reviewed By
Darren Charlton
---
Cues & Timings


1. Emergency Room* (1:50)
2. The Incubator* (2:14)
3. Powder* (3:31)
4. The Books*/You're Afraid* (5:03)
5. The Window* (0:39)
6. The Spoons**/Enemies* (1:49)
7. New School* (1:03)
8. Jacob's Ladder*/After Shock* (2:30)
9. He Bites* (0:50)
10. I'm Okay (1:41)
11. Unhappy Days* (0:15)
12. No Questions* (1:42)
13. The Storm*+ (0:56)
14. Nature Walk**/Duncan's Revelation (5:16)
15. Not A Friend* (1:23)
16. Holding On* (0:38)
17. Tricks/The Hat (4:02)
18. I've Tried* (0:48)
19. The Silver Box (8:26)
20. First Kiss (2:25)
21. Going Home* (1:25)
22. The Shower* (0:32)
23. That's What He Said* (1:00)
24. Freak Show (4:42)
25. The Farm House*+ (1:34)
26. Going Away (3:55)
27. Theme From Powder (4:33)

*Previously Unreleased
**Includes Music Previously Unreleased)
+Includes Music Not Featured in Film


---
Soundtrack Ratings

Disappointing

Functional

Average

Good

Excellent

Outstanding



Powder (original album review)
Goldsmith's decision to pull away from scoring action movies in the early 1990's to concentrate on more character driven dramas, gave mixed results. But along with The Russia House (1990) and Forever Young (1992), Powder is up there with the better works from this period.

What cites Powder as a unique gem in his canon, however, is that the film's magic realism allows a combination of both low key drama and fantasy scoring. This is personified in the main theme. Just as Goldsmith characterised the three aspects of Patton's persona, he captures duality in the protagonist, an albino boy Stephen. Therefore, Stephen's theme opens with a quasi mystical motif (reminiscent of Total Recall and First Knight) to suggest the boys otherness before moving into the main theme that captures his tenderness and isolation. The rest of the score explores and expands on these two central ideas; the personal and "other" But it is the latter which proves more successful. The central theme suffers from the same three or four note ascending structure as other works of the period such as The Edge and Mulan. This similarity not only recalls his other works but makes the theme lack specificity. It also inadvertently connotes Western music conventions, conveying the wrong kind of Americana.


Spoon Trick and the Trestle
introduces the use of the vibraphone to the "other" motif as Stephen plays with his telekinetic powers. The colour this adds to the orchestral palette recalls the very best of Goldsmith's percussive experimentation. However, much in the same way that the sliding motif in Poltergeist (1982) characterised the television, this percussive effect functions as a concise signifier of the boys powers.


Stephen and the Snow
represents some of Goldsmith's most delicate writing. Soft and transparent synths pair with harp for a beautiful piece of underscoring.


Without exception the stand alone highlight is the transcendental Everywhere. This depicts Stephen's ascension into a lightning storm; a metaphor for escape. As the boy literally evaporates back into the elements, Goldsmith bids farewell with one of his most heartfelt set pieces. As it builds to a crescendo and Stephen is taken by the storm, the "other" motif takes hold with a euphoric and elemental climax for strings and cymbals. As he disappears, the main theme returns bringing a sense of loss but ultimate peace that the boy has gone to a more forgiving place.


With the exception of the cues Main Title and Stephen Goes to School (one of Goldsmith's inimitable Explorers/Gremlins scherzos) which are sorely missing here, the commercially released album represents the score well. The delicacy of its underscoring may disinterest some, but following the inauthentic and tired Congo and The Shadow before it, Powder came as a reminder of what Goldsmith had left to give when the interest was there.