---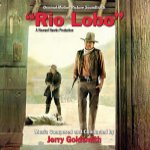 Try
& Buy From



---

Music Conducted By
Jerry Goldsmith

Orchestrations By
Arthur Morton

Recorded By
-

Performed By
-

Album Produced By
Ford A Thaxton And Jerry Goldsmith

Label
La-La Land Records
LLLCD 1221


Previous Release(s)
Prometheus
PCR 511


Year Of CD/Film Release
2012/1970

Running Time
78:00

Availability
Limited Edition Release

---
Cues & Timings

Mono Complete Score

1. RIO LOBO Main Title (02:15)
2. The Capture (01:41)
3. A New Arrival (01:46)
4. Unexpected Gun (02:03)
5. A Good Teacher (complete) (05:56)
6. Quiet Town (01:46)
7. No Place to Go (01:12)
8. Plans (04:48)
9. The Raid (02:22)
10. The Scar / Hang on a Minute (03:16)
11. Cordona's Capture (00:41)
12. The Cantina (01:44)
13. The Trade (03:37)
14. RIO LOBO End Title (03:05)

Source Cues

15. Assembly (00:26)
16. Billy Boy (01:37)
17. To Arms (00:26)
18. POW Camp (01:36)
19. Saloon Source Guitar #1 (02:30)
20. Saloon Source Guitar #2 (01:30)
21. Jew's Harp Source (00:56)
22. Saloon Source Piano #1 (01:00)
23. Saloon Source Piano #2 (01:26)
24. Saloon Source Piano #3 (01:55)

Alternate Cue

25. On to Rio Lobo (alt. end) (00:38)

Stereo Cues

26. The Capture (01:35)
27. New Arrival / Unexpected Gun (03:01)
28. A Good Teacher / Quiet Town / Cantina (09:38)
29. Plans / The Raid (06:58)
30. Scar / Hang on a Minute / Finale (05:35)

---
Soundtrack Ratings

Disappointing

Functional

Average

Good

Excellent

Outstanding




Rio Lobo

Official release of this rare western score from Howard Hawks' last film. Goldsmith provides his usual south of the border flavoured approach with a strong and infectious main theme first heard for solo guitar over opening credits then later with a full orchestral workout. Comedy elements play a part and generally the action adventure elements are much lighter than other scores for this genre. But the combination makes for a smooth listen and the opening tracks almost play like a well executed suite.

La-La Land improve on the earlier Prometheus release with an improved sounding mono complete score, source cues, a short alternate and the surviving stereo cues provided by the composer.

Expanded review to follow.