Spotlight Articles And Features


THE MAKING OF TOTAL RECALL & BASIC INSTINCT:
NEIL S. BULK RECALL'S FILM MUSIC WHOLE SALE!

Interview moderated by Amer Zahid

NEIL S. BULK is an independent freelance soundtrack Producer and Editor; who has lent his talents to various soundtrack reissues and expansions from such labels as Quartet Records, La-La Land Records, Film Score Monthly, Varèse Sarabande, Intrada and Walt Disney Records. His most significant output has been the mammoth 15 CD box set of STAR TREK The Original Series Soundtrack Collection and the LOST IN SPACE box sets from La La Land Records. He has recently worked for La-La Land Records as album producer for GIANT and DANCES WITH WOLVES. In 2015 he collaborated with legendary producer Bruce Botnick on Jerry Goldsmith's classic scores for BASIC INSTINCT and TOTAL RECALL for Quartet Records.

AZ: Neil, Good to have you back for another round here. You are already a veteran at the US label's boutique market and last year recently you collaborated with the Spanish label Quartet Records on two great new projects, BASIC INSTINCT and TOTAL RECALL . How different is it working with such a label with such different logistics involved?

NSB: If you read the credits on these releases, you can see it wasn't all that different. Johnny Dee Davis did all of the transfers at Precision AudioSonics. I've worked with him for years. Daniel Schweiger wrote the notes for "Basic Instinct" while Jeff Bond penned "Total Recall". Again, I've known both of them and worked with both several times in the past. And then I had the opportunity to work with Bruce Botnick again. We've worked on Goldsmith and Disney projects together, so from that standpoint, it was business as usual.

I think the big difference may have been in the amount of e-mails I sent . As these were my first projects with Quartet and I was handling much of the production on this continent, I detailed virtually every step to José M. Benitez. That way there was no confusion about what these sets were going to be. Thankfully his vision for these releases mirrored my own and we're both thrilled with how they turned out.


AZ: BASIC INSTINCT is one of the most iconic Jerry Goldsmith scores that came out from his more recent modern oeuvres. To say the least, the film became a trend setter and redefined the noir film genre for modern audiences. It further boosted director Paul Verhoeven and upgraded actress Sharon Stone to 'A' list category in Hollywood. The soundtrack has been issued previously by Varèse Sarabande and expanded by the Prometheus label. It's considered to be one of Goldsmith's most popular and influential scores. How exciting was this particular project to you when Quartet Records decided to issue this as a definitive 2 CD set?

NSB: It was very exciting, because I only asked to produce "Total Recall"!

With "Basic Instinct", I must admit that I wasn't as familiar with the score as I should have been, because it is a masterpiece. I owned the Varèse and the Prometheus releases and enjoyed both. I really didn't know of a way to differentiate a new release, because I thought they pretty much covered all of the bases. Only when I started really diving into the research did I discover areas where we could deliver something new.

AZ: The previous issues of BASIC INSTINCT were plagued by certain sound anomalies as in the OST album and also different versions were used in the expanded set from Prometheus. How were these addressed this time around?

NSB: For whatever reason, there are some sonic issues in the actual recording of "Basic Instinct". This is something inherent with the recording, and not something "wrong" with the Varèse release. I wasn't aware of this until I started doing the research for the project. We went back to the original 48-track digital tapes for this release, and on those tapes was the live 3-track mix (Left, Center, Right) used for the film mix. When I started listening to those, I heard a minor buzz on the center channel of a few cues. You really have to be tuned in to hear it.

I did a quick test to see if I could paint it out digitally, and I could, so I knew it was possible. Then I made a call to Bruce Botnick. This was his recording after all and he was going to handle the mixdown to stereo. I wanted to get his permission before proceeding. He gave me some pointers to make sure I didn't alter the phase relationship and I came up with my own way to ensure the cleaned up center channel was identical in time with the left and right channels and that the buzz would be eliminated.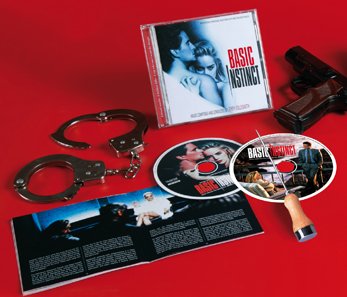 The Prometheus album is a fine release, but since it's only one CD, it can't possibly have everything on it. By going to two discs, we were able to offer two versions of "An Unending Story" in an elegant way, that felt natural, as one ends the film and the other ends the original album. It also gave us the opportunity to present the versions of cues intended for the "R" rated US cut.

AZ: Both film score and album version have been entirely remixed and re-mastered from the original digital multi-track tapes by the original scoring mixer Bruce Botnick. What was his role on resurrecting the classic scores for BASIC INSTINCT and TOTAL RECALL?

NSB: I think you just answered your own question. Bruce did the new mix-downs using his original 3-track LCR mixes for both films as well as the final album mastering. Most importantly however for both projects, Bruce was instrumental in locating all of the original multi-track tapes for both movies. If he hadn't done that, we wouldn't be talking right now.


AZ: Well thanks to Bruce! Were there any interesting anecdotes revealed during reminisces like ' oh the day we recorded the live synthesizer's with the orchestra and something interesting happened?

NSB: Not that I recall (no pun intended). Bruce and I both agreed the room where the German sessions for "Total Recall" were held sounded great.

AZ: Moving onto Paul Verhoeven's action fest bonanza TOTAL RECALL starring Arnold Schwarzenegger, what was the approach to redo the already satisfying Deluxe Edition expansion set from Varèse Sarabande? It seemed that certain film version cues were still missing on that set?

NSB: My usual methodology is to dissect previous releases to learn what was done on them, but I didn't do that for "Total Recall". I realized our album was going to be long and I couldn't possibly present every variant (nor would I want to), so I made the decision to present the score as assembled for the movie on disc 1 knowing we'd present the original 1990 album assemblies on disc 2. There may be some slightly different takes on the Deluxe versus this new album but I don't think anyone will notice.

AZ: TOTAL RECALL has an interesting history of its own. The original sessions began in Germany with the composer but after a few troubling sessions it was decided to abort the sessions and move the recording to London with the National Philharmonic Orchestra. How much of the German sessions music was deemed usable in the film?

NSB: About 3 minutes worth. The first 2:30 of the main title ("The Dream") are from the German sessions and the cue "The Aftermath" is also from those sessions. That's it! The main titles were re-used as the end titles, with a slightly different edit point ("The Dream" has always been a combination of two performances).

That's something else I should point out. Goldsmith liked to record complete takes as much as possible and not intercut between performances. "Basic Instinct", for instance, has one cue with an intercut. "Total Recall", because of the complexity, has cues made up of many different takes. This is all detailed in the liner notes of the new release.

AZ: That's very interesting to know! Also the new set premieres a completely different approach to the cue 'Clever Girl' which to me sounds like a Goldsmith retro 70's action pastiche. How did you come about to cut and re-assemble this cue exclusively for this set and was this most challenging cue to assemble?

NSB: In the case of this cue, you go with what you have. It was the most interesting thing I heard from the German performances and I knew I wanted it on the album. The challenge was presenting something that would show the musicians in the best light possible. We know the sessions didn't go well, but I didn't want to include something that demonstrated that. There were many takes of "Clever Girl" and I knew that if I cherry picked the best parts of them I could make something worth listening to. I didn't have to worry about picture sync, so I could go to takes deemed unsatisfactory and make it musical. In the end, I used 7 different performances to put it together.

It wasn't the most challenging part of "Total Recall", but it may have been the most rewarding. Jeff Bond's notes detail the troubled music history, but with this set you don't just read about it and that was important to me.

AZ: So finally we have debuting on this release is the actual film version of the 'End Credits'. Was this a re-edit of existing cues put together?

NSB: A friend of mine always asks if I'm going to include the film edited end titles, and my usual response is "no". And initially I wasn't going to do that for either "Basic Instinct" or "Total Recall", but then we wound up doing it for both. In the case of "Instinct" the film used a different take of "The First Victim" so that became a great way to present an alternate take. In the case of "Recall" a short bridge was recorded to merge "The Dream" with "The Mutant" (which are the two cues used for the end titles). When I realized that "The Dream" was edited differently than at the start of the film and "The Mutant" ended with a crash not used in the film proper, it became obvious that the end titles needed to be represented. So in the future, if a film has a tracked end title, I may be a little more open to including it on a CD.


AZ: That's great! To say the least, that 'End Title' had been quite a mystery until now. Completing this fine release are the unreleased 'source cues' which fans have always wanted to hear, particularly the spa like ambient 'Environmental' cue. Were these recorded after the final sessions or performed by Goldsmith in his home studio?

NSB: I don't know when or where they were recorded. They were copied onto the last reel of the multi-track, along with the source cues by Bruno Louchouarn.

AZ: Both BASIC INSTINCT and TOTAL RECALL appear to be wonderfully re-mastered but also entirely remixed by Bruce Botnick. The results are absolutely stunning and they now appear to be definitive representations. How much dependent are we on technology and how have the tools of technology improved from last ten years? Are we in a Golden Age of resurrecting and revisiting old recordings and giving them a new life through technology?

NSB: This is all subjective. Previous releases of these scores derive from the same mix, but methodologies and techniques are refined. It's not the technology, but the people using it. In the case of these albums, we were fortunate to have Bruce and all of his experience.

AZ: Thank you for your time. It has been very educational. We are also look forward to more exciting titles as we begin 2016.

NSB: Thanks for the interest! There are some very exciting albums coming from all of the labels this year!
Special thanks to Neil S. Bulk

AMER ZAHID is an ardent film music buff by hobby, and a banker by profession. (Also dabbling as an actor and film maker) He lives in Karachi, Pakistan. John Williams and Bernard Herrmann remains as his favourite composers to this day, followed by Jerry Goldsmith, John Barry, James Horner, Danny Elfman and Maurice Jarre. He has been associated with Film Score Monthly print magazine run by Lukas Kendall in particular during its early days. His other claim to film music fame is his involvement with the Grammy Award Nominated 'The Danny Elfman-Tim Burton.
The Total Recall 2 CD Set And the Basic Instinct 2 CD Set are available now from Quartet Records!