---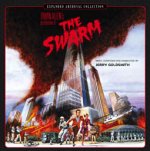 Try
& Buy From



---

Music Conducted By
Jerry Goldsmith

Orchestrations By
Arthur Morton

Recorded By
-

Performed By
The Hollywood Studio
Symphony

Album Produced By
Jerry Goldsmith

Label
La-La Land Records LLLCD 1515

Previous Release(s)
Prometheus
PCR 517
WB LP (album edit)

Year Of CD/Film Release
2020/1978

Running Time
117:26

Availability
Limited Edition Release
---
Cues & Timings

DISC 1: THE FILM SCORE

1. Main Title (Film Version) 4:26
2. Red Two Reporting 2:23
3. The Black Mass 2:33
4. What Happened? / The Picnic 2:13
5. The Bees' Picnic (Film Version) 2:20
6. On Their Way :59
7. Get Him Out 2:13
8. Plastic Hives / Old Friends 3:14
9. Don't Take Him (Film Version) 4:26
10. The Boys And The Bees 2:04
11. Oh Maureen / We'll Come Back 2:26
12. Bees On Fire 1:31
13. Toward Marysville :37
14. The Lollipop :42
15. A Gift Of Flowers 2:01
16. The Bees Arrive (Film Version) 4:54
17. A Boy's Story 1:51
18. The Park :41
19. Condolences :59
20. Empty Town 1:38
21. Train Attack 2:26
22. No Effect 1:11
23. Tommy's Death (Film Version) 3:24
24. Exact Instructions (Film Version) 7:16
25. Departed Friend 1:15
26. The Glasses / Houston Headquarters 3:48
27. Burn 'Em Out :44
28. Get Reinforcements 2:29
29. Bees Inside (Film Version) 5:23
30. End Title (Film Version) 3:07
TOTAL DISC 1 TIME: 75:17

DISC 2: THE ORIGINAL SOUNDTRACK ALBUM

1. Main Title 3:42
2. A Gift Of Flowers 2:03
3. The Bees' Picnic 2:20
4. Tommy's Death 4:18
5. The Bees Arrive 5:51
6. Bees Inside 6:01
7. Don't Take Him 2:30
8. Exact Instructions 4:39
9. A Boy's Story 1:51
10. End Title 3:13
TOTAL ORIGINAL SOUNDTRACK ALBUM TIME: 36:30

ADDITIONAL MUSIC

11. Main Title (Original Version) 4:29
12. No Effect (Alternate Take) 1:10

---
Soundtrack Ratings

Disappointing

Functional

Average

Good

Excellent

Outstanding




The Swarm

Jerry Goldsmith's outstanding score to one of the worst movies ever made is finally preserved on CD. To be a little kind to Irwin Allen, cut an hour from the running time and there may be a reasonable 70's disaster movie here but in all its extended glory we have some of the most ridiculous lines ever spoken and some of the worst over acting since the birth of the morning soap. But joking aside Goldsmith's remarkable music has survived intact remaining one of the finest adventure scores ever recorded. Along with Damnation Alley and Twilight's Last Gleaming, The Swarm is classic Goldsmith militaria -a genre the composer seems to have invented in the space of just two years. From the opening cue as the Air Force arrives in force to a series of frenetic finale set pieces as the futile US Military battle nature at its worst, Goldsmith steals every scene propelling the movie to its finish. Virtuoso playing from the string and brass sections as the swarms consume small town USA is nothing short of jaw dropping and as the swarms murder thousands, Goldsmith leads the onslaught with a series of spectacular musical assaults.

In between the composer does his best to deal with the ludicrous drama and love interests with a selection of delicate themes. Actor Slim Pickens retrieving his son's body bag is a genuinely moving moment thanks to Goldsmith's sombre music and remains a score highlight while the unnecessary developing relationships between the town's folk play much better with Goldsmith's touching theme variations. And to finish Goldsmith's pay off is one of the best end titles ever written as the composer resolves the drama and the burning bees to rousing renditions of his exciting themes. Quite simply a knockout score and style that remains as potent today as it ever was. A film score may not be able to save a picture but the score to The Swarm came frighteningly close!

A must have, a piece of film music history and required listening. Just don't mention the movie!