---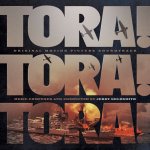 Try
& Buy From



---
Music Conducted By
Jerry Goldsmith

Orchestrations By
Arthur Morton

Recorded By
-

Performed By
-

Album Produced By
Lukas Kendall

Label
La-La Land Records LLLCD 1197


Previous Release(s)
Film Score Monthly
FSMCD Vol. 3, No. 4

Varese (Re--recording)

Year Of CD/Film Release
2011/1970

Running Time
55:58

Availability
Limited Edition Release

---
Cues & Timings


1. Main Title (3:04)
2. The Chancellery (1:02)
3. Little Hope (1:51)
4. Predictions (2:41)
5. Disagreement (2:00)
6. Imperial Palace (2:26)
7. Mt. Niitaka (1:13)
8. The Waiting Game (5:45)
9. Sunday Morning (2:53)
10. The 14th Part (2:38)
11. Entr'acte (1:43)
12. Pre-Flight Countdown (2:05)
13. On the Way (1:38)
14. The Final Message (4:50)

Bonus Material

15. Japanese Military (4:36)
16. American Military (1:36)
17. Big Band Source (2:21)
18. Hawaiian Radio (1:43)
19. The Waiting Game (with overlay) (5:45)
20. Tora Theme (piano) (1:17)
21. Tora Theme (orchestra) (1:38)

---
Soundtrack Ratings

Disappointing

Functional

Average

Good

Excellent

Outstanding




Tora! Tora! Tora!


A landmark work and a mesmerising listen that underlines Goldsmith's breathtaking ability to create and build tension in drama. The composer's complete work is featured, with over 35 minutes of score plus source music to exaggerate the running time to 55 minutes. A fine stereo source preserves this much admired work detailing the build up to the attack on Pearl Harbour by the Japanese Air Force.

Goldsmith's ethnic scoring abilities are second to none and are no more evident than they are here. It's a complex score filled with some of the most avant-garde writing you are likely to ever here from the composer. The traditional scoring approach to a Hollywood war movie is quickly discarded in favour of some jaw dropping suspense orchestrated for a variety of Japanese instruments and supported by tried and tested devices pioneered in Goldsmith's remarkable Planet Of The Apes. A wonderful CD with detailed notes, rare film stills and some intriguing additional music.

First released by FSM in 2000 and re-issued in 2011 by La-La Land Records. Again produced by Lukas Kendall.

Expanded review to follow.