---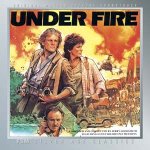 Try
& Buy From



---



Music Conducted By
Jerry Goldsmith

Orchestrations By
Arthur Morton

Recorded By
Bruce Botnick

Performed By
-

Album Produced By
Jerry Goldsmith

Label
FSM1104

Previous Release(s)
WB (Germany/Japan Only) WPCP-4936
WB CD (Japan)
WB LP

Year Of CD/Film Release
2008/1983

Running Time
44:48

Availability
Normal Release

---
Cues & Timings



1. Bajo Fuego (5:36)
2. Sniper (3:27)
3. House of Hammocks (3:14)
4. Betrayal (4:19)
5. 19 De Julio (3:29)
6. Rafael (2:37)
7. A New Love (3:46)
8. Sandino (3:39)
9. Alex's Theme (3:41)
10. Fall of Managua (2:29)
11. Rafael's Theme (4:11)
12. Nicaragua (4:14)

---
Soundtrack Ratings

Disappointing

Functional

Average

Good

Excellent

Outstanding




Under Fire

First US CD release with FSM's customary high standards of presentation with extensive notes and not limited in quantity. Previously only available as a rare and expensive WB German CD and WB Japan CD. FSM note they did try to source the missing cues and alternates to the album arrangements but were unable to find any master tapes.

Guitarist, Pat Metheny was originally asked to write the score, but realised he was hardly qualified and declined. Thankfully the makers then sort out Jerry Goldsmith but asked the composer to utilise the talents of Metheny as instrumentalist on his score. Goldsmith went on to write one of his most inspirational works combining symphony orchestra with the Pan flutes of the Andes, that musically perfectly play Chile, while Pat Metheny's guitar supports the composer's gorgeous thematic material. A beautiful score that showcases how orchestra and electronics can work in perfect harmony. Goldsmith's landmark score is a masterpiece and unbelievably failed to take the Oscar back in 83, losing to a classically inspired Right Stuff???

Expanded review welcome. If you would be interested in writing one please contact us.